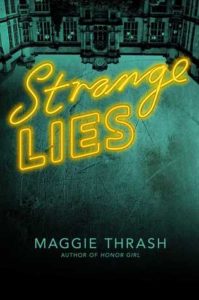 Strange Lies by Maggie Thrash
Review by Lauren
source: copy from ALA17; all opinions are my own
Official Summary (add on Goodreads): Only at Winship Academy would an evening science expo turn into a criminal fiasco. First, there's the anonymous boy in the girls' bathroom handing out drugs to anyone with the secret password. Then the student body president is maimed in a horrifying and tragic accident—but was it an accident or an attack?
Benny Flax and Virginia Leeds are right at the center of it all. And so is the headmaster's son, Calvin Harker, an oddball poet whose interest in Virginia sets off alarm bells for Benny. As the case bleeds from Winship Academy to the surrounding city, the deep fault lines of racial tension in Atlanta's history reveal explosive hatred still simmering under the city's surface.
Review: Once again, I read the second book in a series without having read the first. The first was originally called We Know It Was You but has recently been changed to Strange Truth. I really like the new title and cover better; it would have stuck out more to me than the original. At any rate, I didn't feel lost reading Strange Lies. There were things from the first book mentioned but mostly in passing as Strange Lies focuses on a completely new mystery. This time it's about one of the Winship Academy students being "attacked" if you will and landing in the hospital, fighting for his life. I don't want to give away how it happens, but let's just say its unique, and it leads one to wonder if what happened is actually an accident or if someone wanted this student dead.
The book mostly follows the point of views of Benny Flax and Virginia Leeds who are the only members of the Mystery Club. Benny is an interesting one; it doesn't seem to understand emotions terribly well. He's got a good eye though and is always trying to figure out mysteries, though he doesn't always do anything about it when it does find the answer. Virginia was cool, but I did like Benny better. I think Virginia does some really dumb things, especially at the end of the book, and I'm not entirely sure why she decides to do this. Granted, there's apparently going to be a third book so I suppose I will find out more then!
What I really liked about this book is that it shines a light on the school and community at large, especially in terms of race. Not everyone is a good person and they show their true colors in various ways. It's difficult to really like a lot of these characters, but I kind of appreciated that. It felt realistic and added a darker overtone to the story of possible murder, among other things. While I didn't absolutely love Strange Lies, I did find it to be a compelling read that kept me reading. I will definitely be curious to see where the story goes from here.
Strange Lies + The Devils You Know - two Halloween ready reads #ontheblog!
Click To Tweet
The Devils You Know by M.C. Atwood
Review by Lauren
source: copy from ALA17; all opinions are my own
Official Summary (add on Goodreads): Plenty of legends surround the infamous Boulder House in Whispering Bluffs, Wisconsin, but nobody takes them seriously. Certainly nobody believes that the original owner, Maxwell Cartwright Jr., cursed its construction—or that a murder of crows died upon its completion, their carcasses turning the land black. If anyone did believe it all, there's no way River Red High would offer a field trip there for the senior class.
Five very different seniors on the trip—Violet, Paul, Ashley, Dylan, and Gretchen—have reasons beyond school spirit for not ditching the trip. When they're separated from the group, they discover that what lies within Boulder House is far more horrifying than any local folklore. To survive, they'll have to band together in ways they never could have imagined and ultimately confront the truths of their darkest selves.
Review: This will be a quick review. Basically, I enjoyed this one overall but it was far from a favorite. I didn't find it terribly scary – though all the descriptions of things that happen in the Boulder House are of creepy things. I suppose if you get spooked easy, then this might be a more intriguing book for you. I did like the five point of views; though some characters are more interesting than others. Each one has a secret that is eventually revealed while in the Boulder House, and honestly, I didn't find most of them all that "exciting" or "interesting." I'd actually pretty much guessed – or wasn't that surprised – by most of them. I think Violet had the most intriguing secret, as it was one that I really didn't see coming.
I wouldn't say to not read the book as there isn't anything inherently wrong with it, but again, it's not something I'd say I highly enjoyed throughout. It had its moments though!