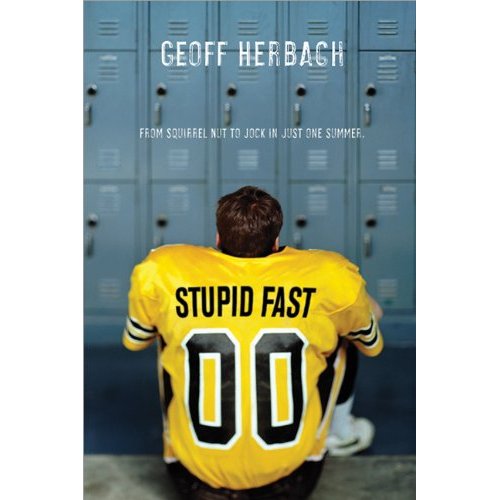 Stupid Fast by Geoff Herbach
Review by: Lauren
Copy from: Publisher
Author Site: Geoff Herbach
Official Summary: I, Felton Reinstein, am Stupid Fast. Seriously. The upper classmen used to call me Squirrel Nut, because I was little and jumpy. Then, during sophomore year, I got tall and huge and so fast the gym teachers in their tight shorts fell all over themselves. During summer, three things happened all at once. First, the pee-smelling jocks in my grade got me to work out for football, even though I had no intention of playing. Second, on my paper route the most beautiful girl I have ever seen moved in and played piano at 6 a.m. Third, my mom, who never drinks, had some wine, slept in her car, stopped weeding the garden, then took my TV and put it in her room and decided she wouldn't get out of bed.
Listen, I have not had much success in my life. But suddenly I'm riding around in a jock's pick-up truck? Suddenly I'm invited to go on walks with beautiful girls? So, it's understandable that when my little brother stopped playing piano and began to dress like a pirate I didn't pay much attention. That I didn't want to deal with my mom coming apart.
Review:
For awhile, I read a lot of books and then didn't get a review posted. This is one of those. It doesn't mean I didn't like it. I just got sidetracked by other things. Oh, life.
Anyway, beyond all of that…I really enjoyed this one. I was curious to check it out but I didn't know how much I would like it or not. You see, I'm not really a sports person and Stupid Fast sounded like a book that would deal with a little too many sports. But it doesn't. I think readers who are fans of sports and then those like me would both enjoy this one.
It's all about growing up, dealing with harder things, and learning to accept that not everyone is perfect; not even adults.
Felton wants to be normal…but he's never been. All of a sudden, he's fast and strong and the athletic kids are paying attention to him. But at the same time, his mom starts to fall apart and his brother is freaking out. Felton can't handle it all. He just wants to work out, deliver papers for his friend who is away for the summer, and swoon over the girl staying in his house. Eventually reality catches up to everyone and Felton learns just what it means to be strong.