Losing It by Christine D'Abo 
Review by Lauren
source: copy from Netgalley; all opinions are my own
Official Summary (add to Goodreads): Finn Miller doesn't do social. He works his IT job from home as often as he can to avoid people. If it weren't for his weekly training sessions at Ringside Gym, he might never leave his apartment. And he only does that because of Leo, the gym member he's in love with. When Finn gets talked into attending a speed dating fundraiser at the gym, his greatest wish is to have the courage to try to say something—anything—to Leo.
Justin McCormick has spent most of his adult life being used, whether playing a corporate heavy, or acting as guard dog for his ward. So when he leaves Vancouver for a fresh start in Toronto, he doesn't quite know what to do with himself.
The moment Justin sees Finn at a speed dating event, he knows there's no way he'll make it without a little help, so he offers to coach Finn on the art of conversation. What he doesn't count on is his unexpected attraction to this shy boxer, or his fear that if Finn gets his way, Justin might lose out on his best chance at love.
Review: This is the fourth book in the Ringside Romance series. They aren't necessary to read in order, but I do suggest it since the previous couples are always secondary characters; plus, readers are first introduced to Justin McCormick in the second book, Faking It.
I loved how Finn and Justin seem to be complete opposites at first, but as the book continues, it's obvious to see that they have a lot more in common than first meets the eye. Finn has trouble speaking with people, unless he's comfortable with them and/or not trying to impress them. Justin has made sure he can talk to anyone, but he's never really letting people see him.
While terribly emotional, this book still packed a bit of a bunch. I was definitely internally yelling at Finn for a bit though, as he's a bit stuck on his current crush – who is a jerk – with Justin right there, willing to get closer. Granted, Justin isn't that great with actual relationships either, so the two eventually get to know each other well enough to move forward from friends to more.
I do recommend this book, and the series as a whole! I'd be curious to see if there is another Ringside Romance in the works!
Styled Book Review: Losing It by Christine D'Abo #ontheblog #bookreview #althleisure
Click To Tweet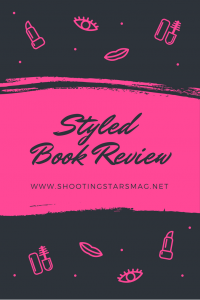 My Styled Book Reviews are where I share fashion/accessories, etc. inspired by the book, a character, or even the cover. For Losing It, I'm going with athleisure – the style of athletic fashion – because the book takes place largely in the gym, and Finn uses boxing as an outlet.
*all links are affiliate; any clicks or sales will give a small percent back to me, but with not extra cost to you*