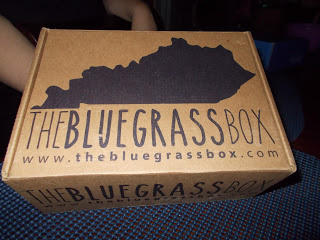 The Bluegrass Box
Review by Lauren
Source: the box was sent for review; all opinions are my own


Review: During Subscription Box September this is one service I wanted to feature but unfortunately, I wasn't able to during that month. However, The Bluegrass Box were super awesome and sent me October's box to review for you all! It had four items included in the box – except three of the items you could put together to make s'mores!
I opened up my box and found my goodies wrapped in bright blue paper with this cute sticker on it! I had to get a picture before it ripped when I opened it up. Everything was packaged nicely and nothing broke in transit, so that's a plus!
As you can see in the above photo, the box came with a little card that was signed by the person who packaged my box. It's a simple thing, but I really liked the personal touch!
In my box I received:
Grateful Grahams
Baxter's Coffee Pumpkin Spice Coffee
Crank and Boom Handmade Marshmallows
Cellar Door Chocolates Dark Chocolate Bar
In the box I was given a card for Baxter's and Cellar Door and on the back of the Marshmallows and Graham Crackers is information about those companies. I love this in case I decide I need more of their awesome products but it also lets me know where in Kentucky these companies reside. Apparently the Grateful Grahams are located not too far from me! Who knew?!
As for the actual products, I cannot complain one bit! My sister, my mom, and I all tried out the s'more goodies and these were seriously amazing. My mom doesn't do marshmallows so she skipped those but my sister and I had a full-fledged s'more and it was seriously the best s'more ever. All of these products together were just delicious! The graham crackers are not your store-bought variety, oh no! And that chocolate – melt in your mouth good. And finally, the marshmallows! I love that these are homemade. I only eat marshmallows with certain things, but these are well worth checking out! I'm getting hungry now…
Baxter's Coffee was shared by my dad and grandma. I don't drink coffee, but they really loved it. Every morning for a few days they would make themselves coffee, so two thumbs up from them. I love that it's a full bag too and not just a little sample. Well worth the money you'd spend to buy a box!
Another addition to the box is a card from the company listing all the items in the box and including a brief statement on that particular product. Very nice and useful to keep on hand once you're done with your products.
Overall, I really enjoyed this box. It's great for anyone who lives or used to live in Kentucky. I currently live in KY, but this would be nice to give to a friend of mine who is away for college or even share with someone who has never been to KY. Maybe it will entice them to come visit!
You can buy a one-time box for $35.95 or you can check out how to do a subscription!