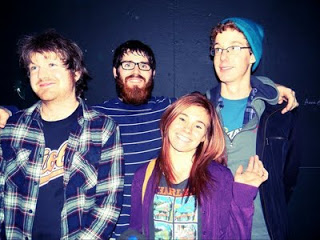 The following interview is with lead singer and guitarist Kara Pollitt of Suburban Revival. Be sure to enter the giveaway afterwards!
For those that don't remember, I used to post a lot more things regarding music as we actually started out as a purely music "magazine" or blog. This is just a small step in getting back to a more eclectic mix of posts, so leave your thoughts and spread the word.
1. What makes up the majority of your set…original or cover songs?
Originals. We like to play covers every once in a while, but we've always focused on writing and performing our own songs.
2. You just released your EP, The Book. That's the name of one of your songs, but why did you decide to name the whole album after it?
"The Book" sets the mood for the whole EP. When I write lyrics, I tend to write about feelings from past relationships. Almost every song I've written is about a boy.. Haha.. "The Book" is an accumulation of memories, feelings and hope in a relationship. Plus, it has an awesome build up in the intro.
3. What's your writing process like…either music, lyrics, or both?
It seems to change from song to song. Sometimes I'll write a complete song and we'll jam on it as a band. Usually we all contribute to writing the music. I usually write lyrics and come up with the melodies; however, Steven and Hunter have a lot of input too. Most of the melodies and lyrics actually come to me in the shower…awkward but true. Something about it just clears my head and gives me time to process the day.

I mean, who doesn't like to sing in the shower??
4. You currently aren't with a label, but is that a goal of yours for the future? What would be your ideal label?
Sony! Ha, j/k. Really I feel that with how things are in the music industry, being signed to a label doesn't mean much. Obviously that's where the real money is, but I don't think that any of us are planning on music being our main job.

I just want to keep writing our own music, playing with great bands, and having a good time with my friends…

If one day the opportunity of signing to a label arises and we still get to do all those things then I'd totally sign, but as of now were doing just fine.
5. Do you think Suburban Revival will be a long-time band or do you play purely for fun?
I don't see us ending this any time soon. School and work can make it hard to schedule a ton of shows, but we always play when we can.

We take the music we write seriously but it's definitely fun!

If it weren't fun we'd stop.
6. I have to ask…how did you come up with the band name, and does it actually mean something specific?
I have no idea. Haha. Apparently we are reviving the suburbs?
7. You've played with The Ataris a few times, even playing some of their own songs with lead singer Kris Roe. How did that all come about? Any fun stories from those shows?
First off, the Ataris are one of my favorite bands ever.

Kris is a really nice guy and we've greatly enjoyed every time we've played shows with them. We first played with the Ataris in our previous band a few years ago.

We talked with them at the show and stayed in contact afterward.

Luckily we've been able to play with them pretty much every time they've come through the Cincinnati area since then.
When Kris came through on his last acoustic tour, he was awesome enough to come up on stage sing a few songs with us.

We played a Get Up Kids cover and a few Ataris songs.

It was a blast!

As for funny stories…I remember the first time we played with the Ataris at the Madison Theater a few years ago… Before the show we were hanging out in the back alley behind the venue and saw this Dodge Neon pull up to park and it hit the Ataris's van. We were like "woah!"

It pretty much just bumped straight into it.

The car backed up and pulled much more carefully into the parking spot.

The driver opened the door and guess who gets out…Kris. Haha.

The best part is he looked at the van like "oops" and then just kinda played it off like nothing happened..

Haha.
8. And finally…if you had to write a whole album based on a book, what would it be and why?
Cat's Cradle. It's my favorite book ever. It's so full of material, I could write an entire album about it. Maybe two! Of course, the Bokonon Calypsos would be included and I'd write at least one song about ice nine. "Don't be a fool! Close this book at once! It is nothing but foma!"
Giveaway-
Prize: A silver bracelet from Wear Your Music. Each bracelet is made from guitar strings, and you can get other colors like red. You can also pay more to get a bracelet made from strings used and donated by various artists like Aaron Fink from Breaking Benjamin or Mike Ness from Social Distortion!
To Enter: If you could make a whole album based on one book, what would it be and why? (answer in the comments)
Open To: International!
Ends: Saturday, September 17th!
Extra Entries-
+2 (leave two new comments) Listen to one of the band's songs and leave your thoughts
+2 (leave two new comments) Somehow tell others about this interview, band, and/or giveaway. You can tweet, facebook, or blog. If you blog…leave THREE comments instead of two.