I took part in the Sunshine Box Swap, where you send and receive a fun box of Summery goodies! The hosts were Mrs. AOK and Always, Abby and you can see everyone's goodies here.
My partner was Mrs. Tee – Life, Love, and Laughter and she sent me a really sweet box of bright, fun goodies for the summertime!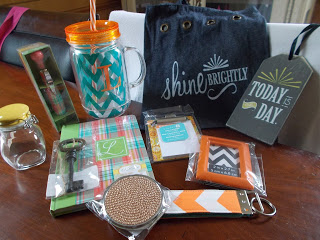 I guess it's not in the pictures, but Tee covered all the goodies in her box with a cute cardboard sign that said Sunshine Box with some fun stickers. Inside the box, I got a cute bag (the blue one that says Shine Brightly), a sign that says Today is Your Day (it's in my living room), a fun tumbler with L for my name (as well as a notebook with L) on it. The rest of the items are things you can see in the photo and I like that they all have a "sunny" theme of yellow, orange, etc.
Thank you! Happy Summer everyone, and Happy Father's Day!