Hello everyone, Lauren here! I don't think I've had a Sunday Post since the beginning of the month, and now we've reached the end. Man, time flies! I had a library event the other week where we made DIY cards, but I'm afraid I didn't get photos. I might try and post about that next week. I have another library event tomorrow though (Leap Day!!) so I'll definitely try and share those photos. It's fun making something and I usually go with my mom and sister, so that's nice! It's a fun little outing every other week or so!
However, I do have some photos to share today. I'm part of the OTSPSecret Sister group over on Twitter. For six months (Feb-July) I will send gifts to a member of the group and at the same time, another person is sending gifts to ME. I obviously know who I'm sending too, but I have no idea who is sending to me. It's a lot of fun and I'm a huge fan of buying gifts for other people. I wanted to share what I got for the month of February.
Here are a couple pictures of the wrapping. Each item had that About sticker and a little "clue" as to what to find. It's so cute, isn't it? I love it! What a clever idea. One of my items was the book Vicious by V.E. Schwab and the note mentions "crafty" characters, as the overall theme of my package was craftiness!
This is a look at all my items together! As you can see, most of the gifts are "craft" based and I'm so excited to finally start using them. I've been meaning to scrapbook more. I love the colored pencils. My sister saw on Twitter that I'd wanted some nice colored pencils so I can use my adult coloring book and voila, here they are!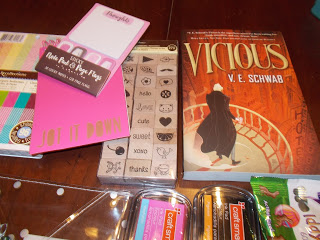 I am so excited about the book. It's been on my wish list for a long time. I also got some stamps and many colored ink pads (yay) as well as some small scrapbook paper that will surely come in handy!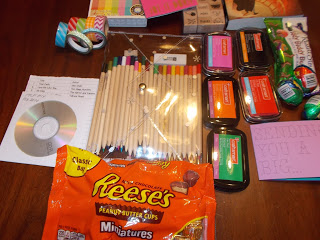 My sister also made me a mixed C.D. I'm so excited! I love them and it's a great way to discover new music. I also got some great chocolate like Reese's and cadbury eggs (some of my absolute favorites!)
All in all, I'm very excited for the continuing months. I have a lot of items already for my own secret sister and I hope she likes them as the months continue.
This Coming Week on Shooting Stars Mag
*Double graphic novel review
*A couple posts from Alicia
*more to come!!