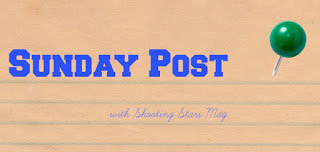 I didn't have a Sunday Post last week, so I knew I had to get something posted for today, even though I'm writing this really close to when it will go live. It's been a bit of a hectic week. My dad had surgery this past Monday and due to some complications, he ended up back in the hospital Wednesday afternoon and he's still there waiting on news of whether he needs surgery again or something else to make him better! So yeah, lots of visiting the hospital between Thanksgiving and all that fun/crazy stuff!
I did get to see Victor Frankenstein Wednesday night with my sister and a friend and we all really loved it! It stars Dan Radcliffe as Igor and James McAvoy as Victor Frankenstein. Despite McAvoy being the title character, it really focuses on both men! It's a bit long, but well worth seeing when you can!
The week before I saw The Hunger Games: Mockingjay Part 2 and it was also amazing. I think they did a really good job with it and I thought all the actors were brilliant. It's sad to know it's over though…
Last Two Weeks on Let's Get Beyond Tolerance (my other blog- LGBT+ themed):
American Girl Magazine Features Two Dads– Causes Upset
A Look at The Night Sister by Jennifer McMahon
Musical Choice: Chely Wright's "Shut Up and Drive"
LGBT News/Reviews: Recommend to Me!
WOW: My Year Zero by Rachel Gold
Etsy Pride (11): Christmas themed!
Coming Up This Week on ShootingStarsMag (subject to change!):
Two m/m book reviews
A Christmas book review + Make it a Gift
A graphic novel review
Ho-Ho-Ho Read-A-Thon Results:
Also hosted by the Caffeinated Book Reviewer (well, she co-hosted!) was the Christmas/Winter themed read-a-thon. Since I didn't do a Sunday Post last week, I didn't update you all on my results. I ended up reading two Christmas themed books. The third I had picked out just didn't appeal to me at the moment. However, I did read a Christmas book right before the read-a-thon began so that's not too bad either! It was fun to read some holiday themed novels. How did you do?
2016 Book Challenge Idea!
And finally, I was thinking of creating my own book challenge for next year but it's no fun if I'm the only one, so would you be interested in taking part?
The idea: Unique Format Challenge (or another cool title if you have any ideas!)
What you do is read books with different formats or cool extras, like a book in verse, or a book with illustrations, or a book with footnotes, or in diary/letter format, or even something like Illuminae with all its crazy ways of telling a story! I know these types of books are hit or miss for some, but I always find unique formatting to be at the very least an interesting experience!
So what do you think? Should I make this an actual 2016 Book Challenge?