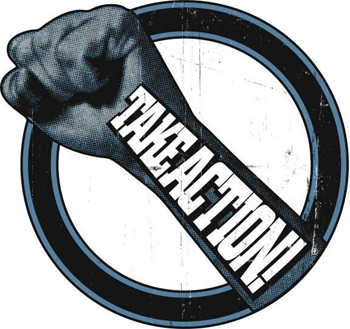 Take Action Tour-A Review of the Bands
The Take Action Tour has been over for a little while now and the only reason I'm not freaking out about being so late is because I was at the last show…so I can't promote this years' tour, only the bands and the idea of the tour so you can go next year or see the bands at some other point this coming summer and fall. Believe me, they are all worth it in some regard!
Anarbor: Gave a great performance, awesome band to kick start the show. Music was good. My new "I must have their album" band. Seriously, I really do need to look into buying their music. I would have that night if I had more money.
http://www.myspace.com/anarbor
Breathe Carolina: Their show gave off the vibe of a club with the lasers and lights. Exciting to watch, give a fun show. I wasn't a huge fan of them, but if you do like their music or are just looking to have a really good time…they are a good choice. I enjoyed their set a lot!
http://www.myspace.com/breathecarolina
Every Avenue: A bit more mellow than Breathe Carolina but they were a band that I'd enjoyed listening too online, so I'd say give them a listen. If you like pop/rock, you might enjoy them.
Meg & Dia:
Meg&Dia: Amazing vocals. Stand out performance was for "Halloween" about a friend who passed away in a drunk driving accident. The song is available on the Take Action Tour compilation. Emotional, raw performance that really drew the crowd in.
Cute is What We Aim For: I'd seen CWWAF before, but I'd never seen their whole set. I must say, it was fun. I have to keep in mind that this was the last show of the tour (if you ever get to see one of those, go!) and all bets are pretty much off. The vocals and performance in genenral were still good but the band just had fun. I guess this is the group most of you might recognize so if you like them, seeing them live should be a good time. If you don't know them, definitely listen to the song "Fourth Drink Instinct" which is a favorite of mine and one they sang! I was super happy!
http://www.myspace.com/cuteiswhatweaimfor

Take Action Tour:
Taken from their website, "The recently wrapped, eighth annual 2009 Take Action! Tour came to a culmination after two months and 40 shows, with one last hurrah in Cincinnati, OH on April 1, 2009. The nationwide charity tour raises funds and awareness for youth involvement in charitable action, and for the second straight year Take Action has chosen not-for-profit organization DoSomething.org to benefit from the funds raised and to help spread the message of action to young people across the US and Canada."
http://media.hopelessrecords.com/wordpress/
If you find you like at least one of the bands on next year's tour (which I'll try and post about) then go and see a show if you can. Fun, live show, and you are helping really great causes by buying a ticket. I believe some of the money from their compilation album goes to Dosomething.org as well.
Contest for that at the bottom!
The following pictures are of Meg&Dia (a full band) and Cute is What We Aim For.
All belong too: Kari Becker
Contest:
When I saw the Take Action tour I bought two copies of that year's compilation album which has songs from everyone on the tour as well as other bands and even a DVD with some videos. If you want to hear Meg&Dia's song "Halloween" which is a new favorite of mine after hearing them live, then you need this album. So go and buy it. For now, try and win it! 🙂
Enter: Comment on here about the tour, one of the bands, photos, etc.
Open to: U.S. only!
Ends: June 31st
Prize: One copy of the compilation album (tracklist below)
CD1
Cute Is What We Aim For PSA
2Cute Is What We Aim For – Doctor
3Motion City Soundtrack – Fell In Love Without You
4Emery – The Smile, The Face
5There For Tomorrow – Remember When (Used To Be Used To It
)6The Spill Canvas – All Over You (Live In Sioux Falls) *Unreleased
7Breathe Carolina – Diamonds
8Forever The Sickest Kids – The Party Song
9Versa Emerge – In Pursuing Design
10Meg & Dia – Halloween *Unreleased
11Ace Enders – Reaction
12Anarbor – The Brightest Green
13Every Avenue – Think Of You Later (Empty Room)
14You Me At Six – Jealous Minds Think Alike
15Bayside – You've Already Been
16Red Car Wire – Timing Just Isn't Your Thing
17Sing It Loud – Come Around
18Cinematic Sunrise – Umbrellas and Elephants
19Four Year Strong – So Hot, And You Sweat On It *Unreleased
20All Time Low – Remembering Sunday
DVD
1Motion City Soundtrack – Fell In Love Without You
2Hit The Lights – Stay Out
3All Time Low – Poppin' Champagne (Remix Video) *Unreleased
4There For Tomorrow – No More Room To Breathe
5Plain White T's – Natural Disaster
6Hawthorne Heights – Somewhere In Between
7Portugal, The Man – Lay Me Back Down
8Rise Against – The Good Left Undone (Live at Hurricane Festival) *Unreleased
9Underoath – Desperate Times, Desperate Measures
11Maylene and the Sons of Disaster – The Day Hell Broke Loose At Sicard Hollow
12Foxy Shazam – A Dangerous Man
13Before Their Eyes – Life Was All A Dream
14Do Something – Overview Video