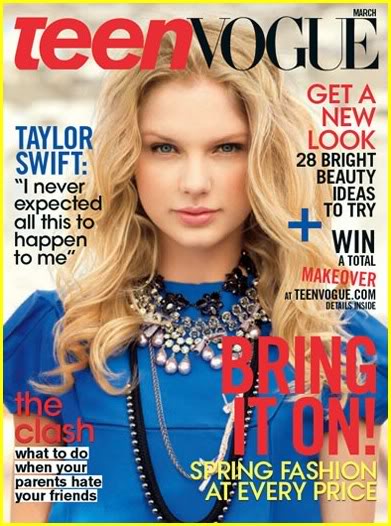 Teen Vogue: March 2009
Review by: Lauren
Website
I apologize for not doing a review of Entertainment Weekly last week, but I did get my new issue of Teen Vogue in the mail and decided to post that this week. The issue is for March, but of course, should be on stands now as it is February!
Teen Vogue: March 2009
The March issue of Teen Vogue features singer/songwriter Taylor Swift as its cover girl. Her article Swift Ascent is a two-page spread that digs into Taylor's love of country, what it feels like to see the girls who were mean to you in the past, and even if acting could be a part of Taylor's future. Overall, the story is short and simple, but still fun and interesting to anyone who is a fan of Taylor.
Also included is a short interview/article with the up-and-coming teen sensation Demi Lovato. If you're a fan of Demi's it might be good to check this out because you'll learn a bit about her new movie due out this summer as well as learning the name of her co-star. The main thing that I enjoyed learning about Demi is how her and fellow Disney star met, Selena Gomez, met and became best friends. I won't tell though!
In the Music section, you can find a review of The Fray's new album. I'm not sure if this is one that I'll pick up at all or not, since I have their first one but don't really listen too it. I do, however, love the new single "You Found Me." Very catchy!
As for Movies, Teen Vogue focuses on three upcoming films such as Push. Again, I don't know if this will be a film I see or not. I think I might get dragged along by my sister however, although I am a fan of Dakota Fanning's so that should be cool to see her all grown up.
The main part of this magazine features an A-Z guide on all the fashion tips you should know about for Spring. Personally, I was interested in all things Japan and the Liberty belle dress (So cute!) To find out more, you'll have to pick up a copy and check it out yourself!
I also highly enjoyed the article by author Sloane Crosley, Under the Influence, which was all about friends and parents that clash. I personally believe that you are not your friends. I can understand that parents will be worried if you start acting differently, and not in a good way, but a lot of times your friends don't change you. I know I have many people in my life who do things that I don't agree with, but that doesn't mean I start doing them too or love them any less. Everyone is different, and as long as you are friends with a person for the right reason, I feel that's all that matters.
I think I should probably mention the article and very cute photo of Gossip Girl's own Chuck, Ed Westwick. Now, I've never watched the show, but I must admit that Ed is definitely as cute as everyone is saying. It was a short, nice article about love and his new film S. Darko.
Now, one of my favorite parts of this whole issue was Key Players. As a blogger myself, it was great to see a magazine talking to others who blog themselves. These, however, are not about reading, music, or even movies but rather the love of fashion. I'm not the biggest fashionista around, but I still think that these bloggers are great and it was a lot of fun to get inside their heads for a bit. After all, it doesn't matter what you are talking about, I still believe all bloggers are the same.
Finally, I'll give a nod to the last page of the issue which features Greta Bellamacina. Not only do I think her style is fun and quirky, I was also pleased to find out that she will be in the next Harry Potter film. As who, you ask? Again, I can't say….pick up a copy!
Overall, this was a pretty good issue. I knew who a lot of the articles were about, therefore it was much more interesting then if not. I only wish that Teen Vogue focused more on books!