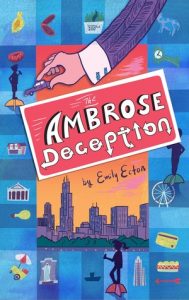 The Ambrose Deception by Emily Ecton
Review by Lauren
source: copy from publisher; all opinions are my own
Official Summary (add to Goodreads): Melissa is a nobody. Wilf is a slacker. Bondi is a show-off. At least that's what their middle school teachers think. To everyone's surprise, they are the three students chosen to compete for a ten thousand-dollar scholarship, solving clues that lead them to various locations around Chicago. At first the three contestants work independently, but it doesn't take long before each begins to wonder whether the competition is a sham. It's only by secretly joining forces and using their unique talents that the trio is able to uncover the truth behind the Ambrose Deception–a truth that involves a lot more than just a scholarship.
Review: I love reading middle grade books, and I definitely want to check out more this year. I'm excited to say that The Ambrose Deception is one MG novel that I would recommend, even for older readers like myself! The book is told in three point of views – Melissa, Wilf, and Bondi. There are also other unique story-telling techniques like texts, notes, etc. If this isn't your type of thing, don't worry – it's randomly throughout the book, but most of the story is a regular narrative style.
The Ambrose Deception brings three kids all around Chicago...recommended! #bookreview #ontheblog
Click To Tweet
The Ambrose Deception focuses on three middle school students who are chosen to compete in a scavenger hunt style scholarship. None of these kids are the type of get nominated for something like this, but all of them could use the money. Of course, there is a lot more going on than just a scholarship opportunity, and eventually, the kids start to figure this out and come together.
One of the things that I just loved about this book are the clues that take each kid all around Chicago. I've been to Chicago a few times now, but I'd love to go back and see some of the places these clues bring the kids. It's such a fun idea, and it makes the book a bit of an informative read too, which is cool!