The Art of Being Normal by Lisa Williamson


Review by Lauren


source: copy from Netgalley; all opinions are my own


Official Summary: David Piper has always been an outsider. His parents think he's gay. The school bully thinks he's a freak. Only his two best friends know the real truth: David wants to be a girl.

On the first day at his new school Leo Denton has one goal: to be invisible. Attracting the attention of the most beautiful girl in his class is definitely not part of that plan. When Leo stands up for David in a fight, an unlikely friendship forms. But things are about to get messy. Because at Eden Park School secrets have a funny habit of not staying secret for long , and soon everyone knows that Leo used to be a girl.

As David prepares to come out to his family and transition into life as a girl and Leo wrestles with figuring out how to deal with people who try to define him through his history, they find in each other the friendship and support they need to navigate life as transgender teens as well as the courage to decide for themselves what normal really means.


Review: I think any book about being transgender is important in some way because it's a topic that is important and needs to be focused on. I read a couple mixed reviews of this book before I ever started, so I was a bit wary going in, mainly when it came to how the author represented the character of David. Throughout the book Leo is called Leo, his chapter titles are named Leo, and everyone thinks of him as he is – a boy. This makes sense because Leo is living as a guy from the beginning of the book. David is still living as a guy, not a girl like he wants. I think the issue for people is that David isn't referred to as his chosen name once he reveals it. but again, this didn't really bother me.
David might eventually reveal what he wants to be called and that he wants to live like a girl and not a boy, but he isn't officially "out" or living this life until the very end. Once we get to that point, David is no longer David. Because this was an issue for people, I just thought I'd share my two scents, as well as prepare any future readers who may find it strange! Again, this is just my opinion and kind of how I see the author's reasoning for how she titles her characters.
As for the overall story, though, I thought it was done fairly well. It's a good book for teens who don't necessarily know what transgender means or who have negative connotations. It's easy to see that both David and Leo are regular teenagers in a lot of ways. They have friends, problems with their families, siblings, crushes, and everyday school to deal with. Of course, their lives are not as easy as some other teens because of their unique situation of having been born in the wrong body, but I appreciated that Williamson made these characters are realistic as possible. That's important with these books. They might have differences, but they are just teenagers at the end of the day.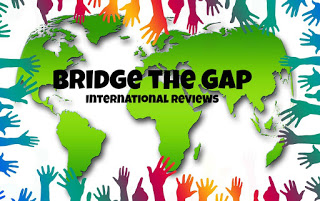 Because I live in the United States, any novel that is written and set in a different country, counts as a Bridge the Gap book. The Art of Being Normal qualifies as it's set in England.