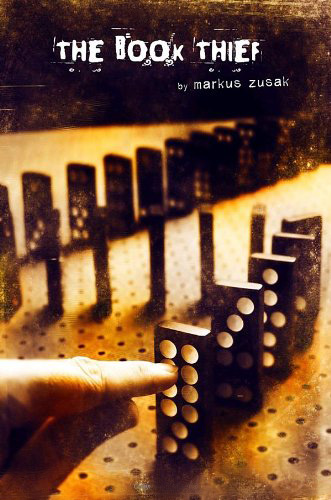 The Book Thief by Markus Zusak


Review by Lauren


Source: personal copy; all opinions are my own


Official Summary: It is 1939. Nazi Germany. The country is holding its breath. Death has never been busier, and will become busier still.
Liesel
Meminger is a foster girl living outside of Munich, who scratches out a
meager existence for herself by stealing when she encounters something
she can't resist–books. With the help of her accordion-playing foster
father, she learns to read and shares her stolen books with her
neighbors during bombing raids as well as with the Jewish man hidden in
her basement.
Review: I've heard many great things about this book for years now, and I've been wanting to read it for just as long. It wasn't until my YA Literature course this semester that I finally sat down and did just that. This was a book my professor assigned for everyone to read during our Historical Fiction section. Many of you have probably read this book or heard a lot about it already, so I won't make this a terribly long review. What you really need to know is that this was a beautifully written novel, full of fascinating characters and narrated by an equally intriguing character: Death.
Death as the narrator is the aspect of the book that I always thought about when this book was mentioned. I wasn't sure how it would work, but it was pulled off very well. This is the only book I've read by Zusak, but it won't be the last. He's a fantastic writer. This book is full of quotes and moments that leave you breathless and thoughtful.
The Book Thief is something you want to read again – and share with others in the hopes that they will love it too, or at least find it fascinating enough to discuss with you.