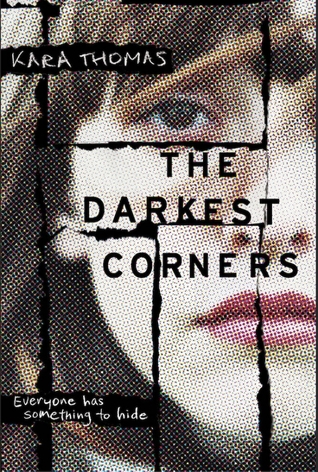 The Darkest Corners by Kara Thomas


Review by Lauren


source: copy for review; all opinions are my own


Official Summary: There are ghosts around every corner in Fayette, Pennsylvania. Tessa left when she was nine and has been trying ever since not to think about it after what happened there that last summer. Memories of things so dark will burn themselves into your mind if you let them. Callie never left. She moved to another house, so she doesn't have to walk those same halls, but then Callie always was the stronger one. She can handle staring into the faces of her demons—and if she parties hard enough, maybe one day they'll disappear for good. Tessa and Callie have never talked about what they saw that night. After the trial, Callie drifted and Tessa moved, and childhood friends just have a way of losing touch. But ever since she left, Tessa has had questions. Things have never quite added up. And now she has to go back to Fayette—to Wyatt Stokes, sitting on death row; to Lori Cawley, Callie's dead cousin; and to the one other person who may be hiding the truth. Only the closer Tessa gets to the truth, the closer she gets to a killer—and this time, it won't be so easy to run away.


Review: I love a good mystery/thriller and it's even better when you find one that is YA, because they are kind of rare. Good ones, at least. And The Darkest Corners by Kara Thomas is definitely a good one. I loved getting to know Tessa and Callie, years after they sent a man to prison for being the Ohio River Monster, a serial killer who murdered Callie's cousin. Except it's been years now and the man behind bars, Wyatt Stokes, is still fighting the case and Tessa is beginning to wonder if they testified against the wrong guy.
Callie is desperate to say Wyatt is the killer in the beginning, because she knows it could upset her family greatly if she says different. Callie and Tessa are both hiding secrets about that time in their lives, but as the book goes on, more and more is revealed, leaving the reader wondering just who is to blame? Is Wyatt the Ohio River Monster? If he's not, is he a killer at all?
Thomas does a fantastic job at throwing out clues. I honestly did not know who was to blame, and it's not as simple as "that person is guilty." Oh no, there are twists and turns and all sorts of dark secrets from the past revealed. This is a book that will keep you up late reading, and as soon as you're finished, you want to discuss it with someone else!