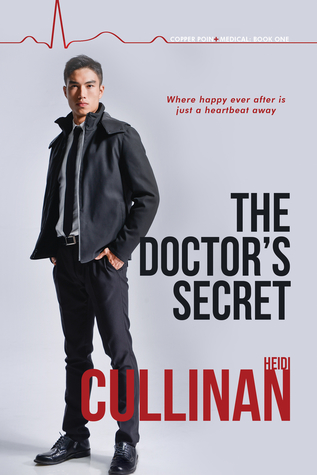 The Doctor's Secret by Heidi Cullinan
Review by Lauren
Source: copy from Dreamspinner Press; all opinions are my own
Official Summary (add to Goodreads): Dr. Hong-Wei Wu has come to Copper Point, Wisconsin, after the pressures of a high-powered residency burned him out of his career before he started. Ashamed of letting his family down after all they've done for him, he plans to live a quiet life as a simple surgeon in this tiny northern town. His plans, however, don't include his outgoing, kind, and attractive surgical nurse, Simon Lane.
Simon wasn't ready for the new surgeon to be a handsome charmer who keeps asking him for help getting settled and who woos him with amazing Taiwanese dishes. There's no question—Dr. Wu is flirting with him, and Simon is flirting back. The problem is, St. Ann's has a strict no-dating policy between staff, which means their romance is off the table… unless they bend the rules.
But a romance that keeps them—literally—in the closet can't lead to happy ever after. Simon doesn't want to stay a secret, and Hong-Wei doesn't want to keep himself removed from life, not anymore. To secure their happiness, they'll have to change the administration's mind. But what other secrets will they uncover along the way, about Copper Point… and about each other?
Review: I love Heidi Cullinan, but while I enjoyed The Doctor's Secret, I didn't love it. However, that is not going to stop me from reading the next two books in the Copper Point Medical series as they focus on characters we've already met, and I'm so curious about their stories!
One thing that I really loved about this book is that it's so diverse. Yes, Hong-Wei and Simon are both gay, but Hong-Wei is also originally from Taiwan and that plays a really large part in the book. Simon is someone who has always loved and appreciated Asian pop culture – the music, the movies, etc. and while it's not something that Hong-Wei really loves (he's a classical music fan), it's obvious that Simon's enthusiasm makes him happy. I liked the conversations that they had about Asian culture and how the things that Simon loved were truly passions for him – they made him happy and content.
I think my biggest issue with the book is that it felt a bit slow, and while there's the "drama" of trying to secretly date while working together, the stakes just never really felt high. I guess you could say it's mostly a feel-good romance, which is nice! If you aren't someone who likes a lot of sex in your romance, this might be a good fit for you too, as it's really only "shown" one time – the rest is a bit "fade to black" if that makes sense.
Finally, I loved the secondary characters, especially Simon's best friends, Jared and Owen, who will be getting their stories in the next two books. I cannot wait!