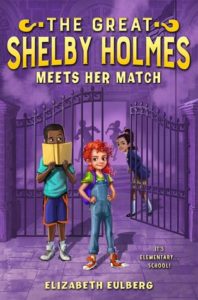 The Great Shelby Holmes Meets Her Match by Elizabeth Eulberg
Review by Lauren
source: copy for review; all opinions are my own
Official Summary (add on Goodreads): Being friends with a super sleuth isn't easy, especially when she's nine years old and four feet tall, and full of attitude. But for eleven-year-old aspiring writer John Watson, being friends with Shelby Holmes is just the adventure he's looking for.
In the few weeks since moving to Harlem with his mom, Shelby has been training John in the art of observation—a skill that comes in handy on the first day of school. John's new teacher, Mr. Crosby, is acting suspiciously, and Shelby knows this is a mystery worth investigating. But as Shelby and John dig deeper, they discover that there may be someone unexpected involved—someone who may have Shelby beat.
Review: I read and loved the first in the Great Shelby Holmes series and the sequel is just as entertaining! I love that the book is told in John's perspective, which is how the original Sherlock Holmes stories are told. This gives readers a correct look at how the cases unfold, at least in terms of what Watson knows or is told by Shelby. As for Shelby, it's obvious that Watson considers her a good friend, even if he wants to have other friends that aren't as socially inept as Shelby. I appreciated that Eulberg had Watson stick up for Shelby in this book, as it's a good "lesson" for middle school readers that you can be friends with whoever you want, even if other people think they are weird. Each book in the series follows a specific case, and in The Great Shelby Holmes Meets Her Match, Watson and Shelby are looking for their teacher's stolen watch – except there is much more to the mystery than they first realize.
The Great Shelby Holmes Meets Her Match: A Young, Female Sherlock! #sherlockholmes
Click To Tweet
If you know the Sherlock Holmes stories, or have seen the movies/BBC Sherlock, then you probably recognize the name, Irene Aldler – the woman who is as smart as Sherlock and who Sherlock never forgets. There is an "Irene" in this book, though that's not their name. However, readers will see the name Adler appear! I think these books are a lot of fun and I like the little details throughout that pay homage to the original stories. There are even illustrations throughout, which I always find fun -adult or not! This may be a middle grade series, but it's one that I think older readers (like myself) would really enjoy.
Want to read my review of The Great Shelby Holmes, the first in the series? Check it out! The sequel is out tomorrow.