*this post includes affiliate links; BOTM and purchasing a book – none of them cost you any extra!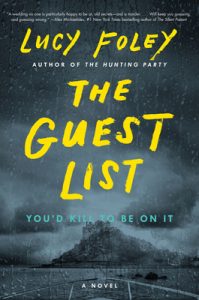 The Guest List by Lucy Foley
Source: copy from Book of the Month; all opinions are my own
Official Summary (add to Goodreads): Set on a remote island off the Irish coast, this is one guest list no one would want to be on, just as no one would have wanted an invitation to the New Year's Eve party in Foley's previous novel, The Hunting Party . Lives unravel amid the revelry on an eerie and remote island as family and friends assemble for a glam wedding in an updated Murder on the Orient Express. Each of the principal characters has a reason to want one of their number dead, there are old secrets, and one of them is murdered.
Review: I've wanted to read Foley's The Hunting Party since it came out. However, due to finally joining Book of the Month, I ended up reading her next book, The Guest List, first. This was one of – if not THE – first five-star reads of 2020 for me. I know it's not going to be everyone's favorite – mysteries and thrillers tend to divide readers a lot. Regardless, I really loved the book and found it super intriguing getting to know the wedding party and its guests.
The book goes back and forth in time, but not by a lot. The past is really only a day before the wedding, or hours before the wedding. The current time is the night of the wedding – and that's when they realize that something terrible has happened. These chapters aren't very long – just enough to keep you wondering who's the victim and who's the murderer. The chapters leading up to the wedding are shared between some of the main characters – the bride, the bridesmaid, the wedding planner, the plus-one, and the best man. Everyone has a story and things are slowly revealed as the book goes on, though a large chunk of what motivates each character isn't explained until near the end of the book.
The Guest List is very atmospheric – being stuck on an island in bad weather – and it definitely kept me wondering and flipping the pages. I found myself fully engrossed in the book when reading, and I am definitely going to read The Hunting Party ASAP now (thanks to my lovely friend, Sara, for sending me a copy)!