One of the gift guide ideas in the previous post (if you didn't see it, just scroll down) was for Housewarming Gifts for a friend that is moving. I chose this one to do first (don't worry, if you left an idea, I'll try and do it in the coming weeks) because a friend of mine is actually moving out for the first time in a few weeks so I figured it would be relevant for my own life! This is one of those ideas where I could have added a ton more, so feel free to suggest another Housewarming guide in the future.
Right now, though, what other guides do you want to see? What do you think about these products? Care to buy any now?
The Housewarming Gift Guide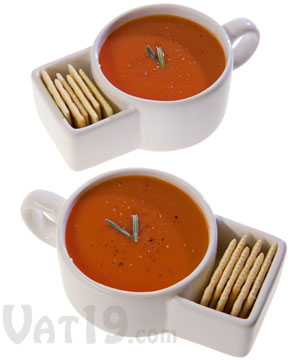 Soup and Cracker Mugs (set of 2)- I love that this is a set of two, especially if your friend (like mine) is moving in with another person!
$11.99
Buy it at Vat19
From the Site: Keep your crackers tidy and at-the-ready with Soup & Cracker Mugs. With these 16-ounce soup mugs, you no longer have to settle for soggy crackers or crumb-laden tabletops.
The clever ceramic bowl features a built-in pouch for storing your crackers until you're ready to dip them into your soup.
Each set includes two dishwasher and microwave-safe Soup & Cracker Mugs.
Pizza Plates – Set of 4– Sorry about the small picture, but I think any younger person moving out would highly enjoy these, or even a newly married couple!
$40
Buy it from Uncommon Goods
From the Site: Considering serving that special slice on an all-purpose plate? Fuggedaboutit! This triangular stoneware plate comes at that piece of pie from the right angle. Whether you're devoted to deep-dish or the New York slice, this three-sided dish is designed to accommodate any version of the Friday night favorite. From the crust-hugging curved end to its tapered point, it slides beneath slices with ease, making a speedy delivery to your taste buds that much simpler.
Dinner of the Month Club– Yes, this is a more costly gift but if you know someone that is moving away from friends and family, a monthly gift might be fun to look forward too. I chose the Dinner Club to showcase, but they have a long list of options with various prices: Movie Club, Popcorn Club, Teddy Bear Club, Dog Treat Club, and Cupcake Club to name a few!
3 months is 71.85 total or 23.95 per month (you can do 6 month, 12 month, or dinner of the season)
Buy it from Amazing Clubs
From the Site: The Dinner of the Month Club is a gourmet gift they'll look forward to month after month! Each month we'll deliver a complete Italian-themed gourmet meal including a specialty pasta, premium pasta sauce, and one additional gourmet item (usually a dipping oil, appetizer or dessert item).
Custom Rubber Address Stamp– This is a great housewarming gift because you're using the recipient's NEW address as part of it!
$18
Buy it from the etsy shop (photo taken from the shop) My Rubber Stamp
From the Site: Customised & Personalized Rubber Stamps.
Start personalizing with your texts. All of our designs can be personalized to fit your needs.
♥ 3 Sizes are available:
1. 32mm x 80mm (Approx. 1.25″ x 3.15″)
2. 51mm x 51mm (Approx. 2″)
3. 41mm x 70mm (Approx. 1.5″ x 2.75″)
• This listing is for 1 mounted rubber stamp.
• Preferable 2-3 lines of texts.
• Color of the handle/casing is not an option. We will send you the next available stamp we have in our inventory.