The Lost Boy by Greg Ruth

Review by Lauren

copy from library; all opinions are my own


Official Summary: Nate's not happy about his family moving to a new house in a new town. After
all, nobody asked him if he wanted to move in the first place. But when he
discovers a tape recorder and note addressed to him under the floorboards of his
bedroom, Nate is thrust into a dark mystery about a boy who went missing many,
many years ago. Now, as strange happenings and weird creatures begin to track
Nate, he must partner with Tabitha, a local girl, to find out what they want
with him. But time is running out, for a powerful force is gathering strength in
the woods at the edge of town, and before long Nate and Tabitha will be forced
to confront a terrifying foe, and uncover the truth about the Lost Boy.
Review: One of the things that really stood out to me about this graphic novel were the illustrations. They are all in black and white, but the detail makes things look fairly realistic. I loved the attention to detail and how the story came alive across the pages. As for the story, this is about a boy named Nate who finds a mysterious tape recorder from a boy named Walt, who lived long ago and found a secret world just outside his home; now Nate's home. The magic and intrigue that surrounded Walt all those years ago has now captured Nate and his neighbor, Tabitha.
Honestly, describing this book is a bit difficult. I suppose I'd call it a fantasy, and I love how the book includes a mix of interesting characters. You have a doll named Tom Button, an annoying squirrel, insects riding dogs, and more. Of course, all of these creatures talk and not everyone is on Nate and Tabitha's side. The biggest intrigue in the book is called the Vespertine and I found it to be quite an interesting character in the end.
The book ends with the main storyline wrapped up, but readers are given a glimpse that not all is well and it makes me excited to find out what will happen next. I do hope a sequel comes out soon!
I love showing everyone a little of what the book includes, especially to showcase the artwork, so here is a page from the book:
Like I said above, I really love the illustrations in this book. Some graphic novels have more of a cartoon feel, which can be fine, but The Lost Boy does well with the realistic drawings.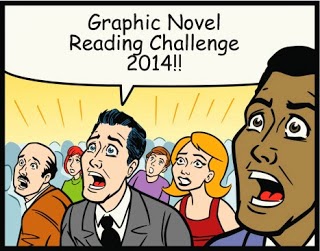 This is my first book read for the 2014 Graphic Novel Reading Challenge.