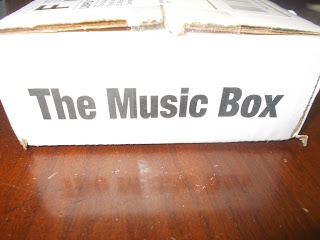 The Music Box – try it out with a 15% off code: SEPTREVIEW15


Review by Lauren


Source: one month's box sent for review; all opinions are my own


Review: I love finding new music, and I used to be pretty good at keeping up with the latest bands and groups. It's more difficult nowadays, and I feel like I know more about books than music, but that doesn't mean I don't still love the fun of discovering a new artist. Therefore, I loved the idea behind The Music Box where you can choose from various subscriptions and receive fun music in the mail every month. Granted, you might get something you already know or own, but I feel like those chances are pretty slim.
A look at the inside of my box!
Let's break it down to figure out what you would get every month if you subscribed, before I share what I received!
The Envelope: $5/month- ONE compilation CD w/ 15-20 songs. Featuring genres such as Pop-Punk, Pop-Rock, Indie, Alternative, etc.
The Box: $10/month: 2-4 CDs and other goodies. Goodies could be stickers, wristbands, downloads, autographs or t-shirts, etc.
The Bundle: $13/month: ONE music box and ONE envelope
Shipping Rates–
United States -shipping is free
Canada- shipping is $6
International- shipping is $10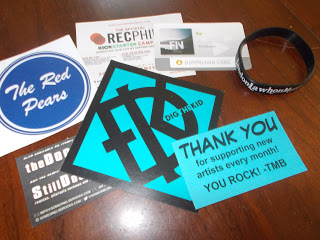 Some of the goodies in my box!
Now that we've gotten that out of the way, let's see what I got in my box for the month of September (I chose Pop/Rock as my musical genre but there is also Alt/Indie, Rock, Country, and Surprise Me).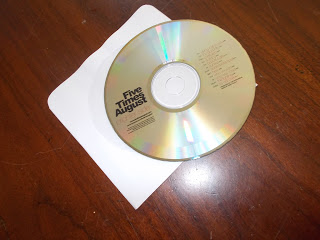 Two of the albums that I got in my box are from Five Times August. I have heard of him but I don't know if I knew any of his music beforehand. I listened to some of the album Life as a Song (in the top right hand corner of the below picture) and it was really good. I've always loved Pop/Rock type music and this definitely fits the music that I listened to in my teens years. I'm excited to listen to more of his stuff!
I haven't had a chance to listen to Rollo Time yet, but I'm excited to find a band I had never heard of before! I think this service is really well priced and I love that you can choose the amount of goodies you want as well as the genre of music you would be interested in. I think my mom would love to try out the Country box, and I'm curious to see what other Pop/Rock albums I would be sent in the future. I'm not subscribed to this service, but it's one I do want to try out again in the future to see what I think of future pickings.
For now, I really like The Music Box and I would recommend checking it out! It seems like a really fun and easy way to discover new music.