This is a sponsored post, in collaboration with The Children's Book Review and Tom Durwood. All opinions are always my own.
The Official Doodle Boy™ Coloring Book by Joe Whale is a really fun, imaginative coloring book. I love that the drawings are created by Whale, an 11-year old from the UK. It just shows that kids can make their creative dreams come true. Each page either has a full size drawing, or various characters or scenes to color. One of my favorites features a human-ized book with words like Read and Think around it. As a bookworm, this obviously stuck out to me a lot!
There are a lot of great messages in Whale's coloring book – Everyone is Different and Everyone is a Superhero. It's a very uplifting coloring book! My second favorite page is a full size drawing in a grave yard, with a really big BOO at the top. Definitely a good one for the upcoming Fall and Halloween.
I loved being able to check out this coloring book, and I do think kids would highly enjoy filling in its pages with their own colorful additions.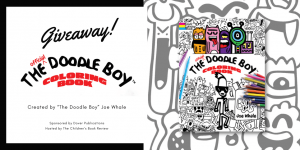 Giveaway Time!
Enter this giveaway and you'll earn the chance to win a copy of The Official Doodle Boy™ Coloring Book!
Three (3) winners receive: A copy of The Official Doodle Boy™ Coloring Book
The giveaway begins August 9, 2021, at 12:01 A.M. MT and ends September 9, 2021, at 11:59 P.M. MT.