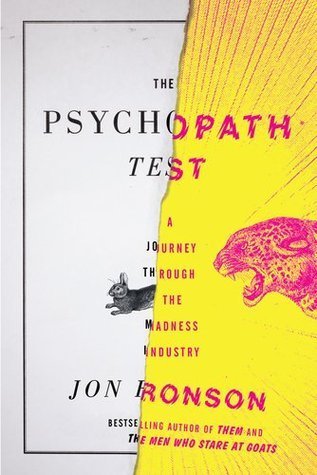 The Psychopath Test: A Journey Through the Madness Industry by Jon Ronson
Review by Lauren
source: library e-copy; all opinions are my own
Official Summary (add to Goodreads): When Jon Ronson is drawn into an elaborate hoax played on some of the world's top scientists, his investigation leads him, unexpectedly, to psychopaths. He meets an influential psychologist who is convinced that many important business leaders and politicians are in fact high-flying, high-functioning psychopaths, and teaches Ronson how to spot them. Armed with these new abilities, Ronson meets a patient inside an asylum for the criminally insane who insists that he's sane, a mere run-of-the-mill troubled youth, not a psychopath– a claim that might be only manipulation, and a sign of his psychopathy. He spends time with a death-squad leader institutionalized for mortgage fraud, and a legendary CEO who took joy in shutting down factories and firing people. He delves into the fascinating history of psychopathy diagnosis and treatments, from LSD-fueled days-long naked therapy sessions in prisons to attempts to understand serial killers.
Review: I'd read and enjoyed Ronson's book So You've Been Publicly Shamed, so I was excited to finally have the chance to read The Psychopath Test. This is a nonfiction book, but I feel like it would be suitable for people who normally just read fiction. Ronson has a writing style that sucks you in and takes you on a journey. While there is some scientific information in this book, it's mostly coming from people that Ronson has met, so it feels much more conversational and definitely not like reading a textbook.
The Psychopath Test: A Journey Through the Madness Industry #bookreview #ontheblog #bookbloggers
Click To Tweet
While it might sound crazy to you, I find the idea of a psychopath to be interesting. Not all serial killers are psychopaths, and not all psychopaths are killers. Of course, they do overlap here and there. What I found really fascinating about this book is the Hare Checklist, which was created to help identify people as a psychopath or not. There are specific traits and people are rated a number – the higher your score, the more likely you are to be a psychopath. Most people will score somewhere on the chart, but they won't score that high.
Some of the items on the checklist are "glib and superficial charm," "lack of remorse or guilt," and "pathological lying." This book also shows that a lot of psychopaths probably work in the corporate world and are high on the ladder – their lack of empathy and remorse often helps people succeed in their jobs because they genuinely don't care about other people. This is something I'd heard before, but it was interesting to see Ronson's experience with this particular aspect of psychopaths.
This is definitely a good read, and I'd recommend if you're at all interested. I flew through the book!