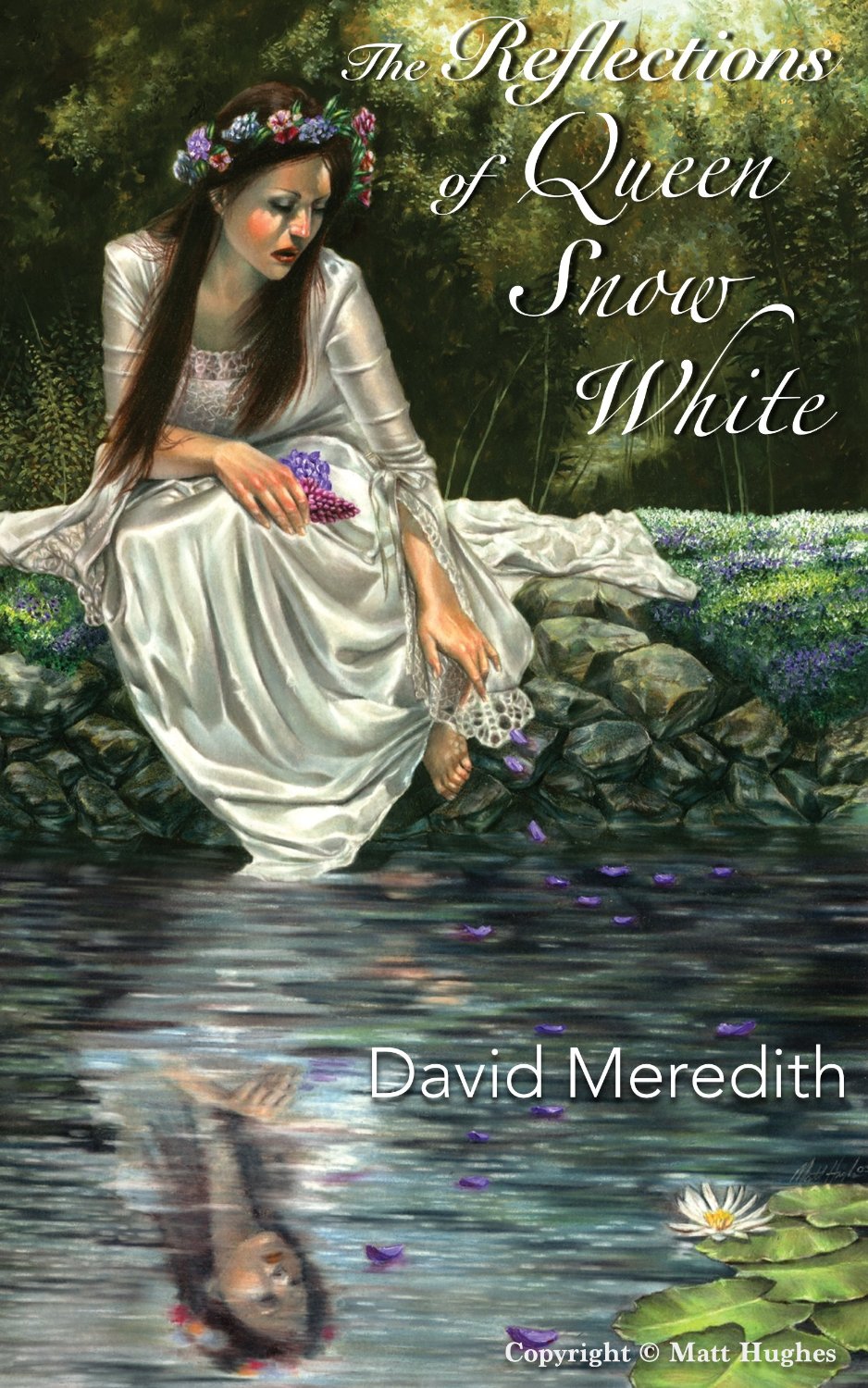 The Reflections of Queen Snow White by David Meredith

Review by Lauren

copy from author, all opinions are my own

Official Summary: What happens when "happily ever after" has come and gone?
On the eve of her only daughter, Princess Raven's wedding, an aging Snow White finds it impossible to share in the joyous spirit of the occasion. The ceremony itself promises to be the most glamorous social event of the decade. Snow White's castle has been meticulously scrubbed, polished and opulently decorated for the celebration. It is already nearly bursting with jubilant guests and merry well-wishers. Prince Edel, Raven's fiancé, is a fine man from a neighboring kingdom and Snow White's own domain is prosperous and at peace. Things could not be better, in fact, except for one thing:
The king is dead.
The queen has been in a moribund state of hopeless depression for over a year with no end in sight. It is only when, in a fit of bitter despair, she seeks solitude in the vastness of her own sprawling castle and climbs a long disused and forgotten tower stair that she comes face to face with herself in the very same magic mirror used by her stepmother of old.
It promises her respite in its shimmering depths, but can Snow White trust a device that was so precious to a woman who sought to cause her such irreparable harm? Can she confront the demons of her own difficult past to discover a better future for herself and her family? And finally, can she release her soul-crushing grief and suffocating loneliness to once again discover what "happily ever after" really means?
Only time will tell as she wrestles with her past and is forced to confront The Reflections of Queen Snow White.
Review: I'm not someone who has read many fairy tale retellings, and I don't know a lot about the original stories. However, from what I know of Snow White, this was definitely an interesting adaptation. The basic idea is that the Snow White we all know from the stories is now a grown woman with a child of her own. Her daughter, Raven, is about to be married but Snow White can't summon the energy and excitement as the own love of her life, Prince Charming, has passed away.
What I really enjoyed about this book is that you do get plenty of "stories" from the childhood of Snow White. This occurs through the famous mirror. I don't want to give too many details about the mirror since I think it's a unique aspect to the book and it makes understanding Snow White's world and mindset easy.
I will say that the basic idea behind this novel is showing Snow White that she is just as strong and capable on her own as she was with Prince Charming by her side. Some of the examples given to show this had me a bit confused, as I didn't get a strong sense of Snow White's personal bravery. Overall, though, I do think Snow White is shown to be a capable woman who does everything she can to live the roles she was born and cast into. Yes, she is seemingly more capable with Prince Charming, but that comes more from their love for each other than him being a man over her being a woman.
I don't know the exact age level for this book. Most of it is fine for the YA crowd, but there are a few sexual moments that are adult level. Overall, I'd classify this as an adult book that older teens could read.
Finally, I have to comment on that cover. I just love it, and it definitely made me even more excited to accept this novel for review. If you make it larger, you can really see the detail and how the water's reflections show a young Snow White.