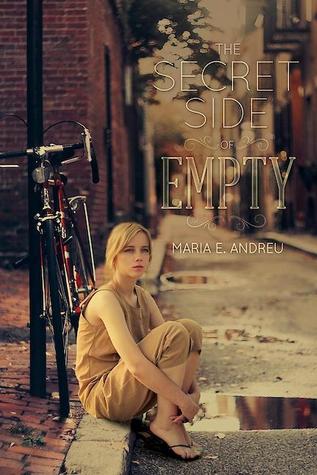 The Secret Side of Empty by Maria E. Andreu

Review by Lauren

copy for book tour, but all opinions are my own



Official Summary: As a straight-A student with a budding romance and loyal best friend, M.T.'s life seems as apple-pie American as her blondish hair and pale skin. But M.T. hides two facts to the contrary: her full name of Monserrat Thalia and her status as an undocumented immigrant. But it's harder to hide now that M.T.'s a senior. Her school's National Honor Society wants her to plan their trip abroad, her best friend won't stop bugging her to get her driver's license, and all everyone talks about is where they want to go to college. M.T. is pretty sure she can't go to college, and with high school ending and her family life unraveling, she's staring down a future that just seems empty. In the end, M.T. will need to trust herself and others to stake a claim in the life that she wants.
Review: If you live in the United States, you have probably heard a lot about illegal immigrants. Maybe you have a set opinion on the topic, but perhaps you do not. In either case, I would definitely recommend The Secret Side of Empty. It gives you a "personal" look into what it's like to be the illegal immigrant that everyone seems to have an opinion about. What really adds authenticity to this story is that Maria E. Andreu used to be an illegal immigrant herself, and is now a documented citizen of the United States. Therefore, it's easy to feel that M.T.'s emotions are real.
There is more to M.T.'s life than her lack of citizenship, though everything ultimately revolves around that. She can't report her abusive dad for fear of being sent out of the country. She can't get too close to a guy without thinking of their impossible future. She can't leave the country with her National Honor Society, even though she has high grades and would love to go. She can't apply to colleges with her best friend, Chelsea, because she knows none of them would let her in.
Despite all of M.T.'s hardships, she tries to live the life she wants by getting out of the house and engaging in the things her peers are doing, like going to parties or dating boys. I like that the book draws you into M.T.'s life and shows how strong of a person she is, so that when things begin to unravel for her, it's easy to empathize and wonder how anything will work out.
I felt the overall story was realistic. I might not know a lot about being an illegal immigrant, but the emotions of everyone concerned felt real and the world M.T. lived in was believable. I didn't always agree with the way she treated people or how she reacted to things, but it's easier to understand when you try and put yourself in her shoes. Here is a girl who sees no future, so it's hard for her to imagine the people in her life ever sticking around.
While you may be thinking this is a depressing novel, it really isn't. There are humorous and hopeful moments throughout. I would definitely recommend.