this post includes affiliate links; any clicks or purchases help support the blog at not extra cost to you. Product was sent for review, but all opinions are my own 
My all time favorite season is fall, so I was really excited when I was contacted about checking out The Body Shop's new fall Vanilla Pumpkin line. After all, winter doesn't officially begin until December 21. We have a little less than a month to still enjoy all things fall, especially the smells!
When it comes to fall, these are the smells that I'm reminded of:
Apple Cider
A fire burning
All sorts of treats coming out of the oven, especially anything chocolate
Anything cinnamon, pumpkin, and/or vanilla
Based on my last answer for the scents of fall, it's no surprise then that I absolutely loved the pumpkin vanilla line from The Body Shop. If you're not a huge fan of pumpkin, there is no need to worry. I didn't find the scent overpowering at all. It's actually a bit of a calming, relaxing scent. My mom absolutely loves the body butter, and the both of us having been using the shower gel and the hand lotion.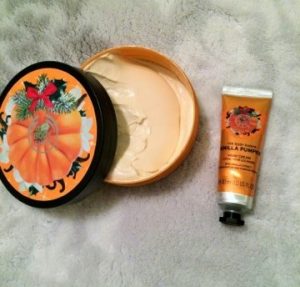 My favorite is probably the hand lotion, which is surprising since I'm not usually a lotion girl. It dries pretty quick, which is a positive for me, and the scent lasts for hours so there's no need to keep adding it over and over throughout the day (though you might want to just because it's so lovely).  I love that I can carry around some of the smells of fall in my purse! If I haven't sold you on these products yet, you should also know that The Body Shop is a 100% vegetarian beauty brand and they are also completely against animal testing! You know you're supporting a good company when you buy from them.
Revel in the Scents of Fall with The Body Shop: Pumpkin Vanilla line available now! #thebodyshop #beauty
Click To Tweet
Interested in purchasing something from the vanilla pumpkin line? Check out the widget below, and remember, if you have an Ebates account, you'll get cash back by purchasing through them. Don't have an Ebates account? Use my affiliate link and get $10 once you make a $25 purchase!