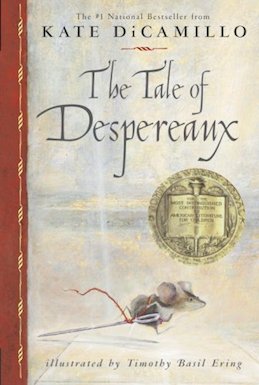 The Tale of Despereaux by Kate DiCamillo


Review by Lauren


Source: library copy; all opinions are my own


Official Summary: Welcome to the story of Despereaux Tilling, a mouse who is in love with
music, stories, and a princess named Pea. It is also the story of a rat
called Roscuro, who lives in the darkness and covets a world filled with
light. And it is the story of Miggery Sow, a slow-witted serving girl
who harbors a simple, impossible wish. These three characters are about
to embark on a journey that will lead them down into a horrible dungeon,
up into a glittering castle, and, ultimately, into each other's lives.
What happens then? As Kate DiCamillo would say: Reader, it is your
destiny to find out.
Review: This was another novel that I was assigned for my children's literature course. I saw the movie back when it was released, but I had never read the book. I'm glad to finally have had the chance to do so, though, because the story is really cute. It follows a few different points of view to give an overall fairy-tale like story.
Throughout the book there are some black and white drawings depicting certain scenes, which was a nice touch. This would be a great book to read aloud as DiCamillo often addresses the readers. She asks them questions and tells them to imagine moments. It's a nice way to get them involved and further interested in the story.
I love that DiCamillo explains the emotions of the characters in the book. Even if they do not always behave well, she helps the readers understand where they are coming from.
A cute book overall!