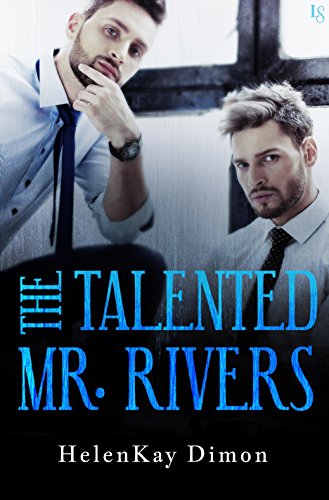 The Talented Mr. Rivers by HelenKay Dimon


Out: September 13th


Review by Lauren


source: copy from Netgalley; all opinions are my own


Official Summary: As the son of an international crime lord, Will Rivers only inherited one thing after his father died: trouble. The Pentasus organization deals in kidnapping and murder, and Will wants no part of the power grab that's tearing leadership apart. But the only way he'll be able to escape is with some help from his former bodyguard, Hunter Cain, whose sculpted body and brooding looks keep Will awake at night. Somehow, Hunter has resisted the tension between them . . . until, suddenly, he gives in.

As a German intelligence officer working deep undercover, Hunter has a very good reason to keep Will in the dark about his identity and his intentions. Although the sex is hot, Hunter's true feelings are a growing liability. Now the only way to save Will from his old life is to push him deeper into danger. But when two strong men are each determined to protect the other, the heat isn't just combustible—it's a firestorm.


Review:
The Talented Mr. Rivers is the second book after Mr. and Mr. Smith, which I loved. I was very excited to be accepted to review Mr. Rivers after highly enjoying the story and relationship in Smith. While this book focuses on a new couple, you still get to see the two men behind Smith, which is always fun in companion novels.

As for Mr. Rivers, this book is about Hunter and Will Rivers, who both appear in Smith, though Hunter far more. This book, though, takes place soon after the end of Smith so you definitely should read both to really get to know all the key players and how that leads to the story line in Mr. Rivers. Hunter is part of a German organization who has infiltrated the Rivers family, believing them to be involved in really evil and bloody work. While pretending to a bodyguard, he eventually meets the youngest Rivers sibling, Will, and finds himself immediately attracted.

Neither Will nor Hunter act on their feelings until Mr. Rivers and it's definitely steamy. There is plenty of sex scenes and sensual moments between the two men, but there is also much more to the story, which I appreciate. Two people are after Will, and neither care too much if they have to kill him in the end. Hunter is trying to bring down the operation the Rivers family runs, but he's also still immensely attracted to and starting to care for Will, so he wants to keep him safe. The two men have many secrets between them, though Hunter has the most, as he knows more about Will from his job than Will knows about him. For example, Hunter is not his real name. That's a small thing compared to everything else, but it's something the two have to work through, especially in the middle of a serious operation.

Again, I don't want to go on too much about the specific details. Just know that this is a sexy, fast-paced, and action-filled novel! Highly recommended!