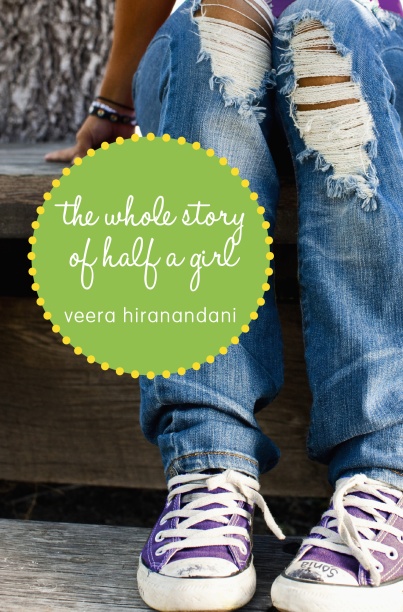 The Whole Story of Half a Girl by Veera Hiranandani


Review by Lauren


Source: copy from library; all opinions are my own


Official Summary (I would stick to the first paragraph only!): After her father loses his job, Sonia Nadhamuni, half Indian and half
Jewish American, finds herself yanked out of private school and thrown
into the unfamiliar world of public education. For the first time,
Sonia's mixed heritage makes her classmates ask questions—questions
Sonia doesn't always know how to answer—as she navigates between a group
of popular girls who want her to try out for the cheerleading squad and
other students who aren't part of the "in" crowd.
At the same
time that Sonia is trying to make new friends, she's dealing with what
it means to have an out-of-work parent—it's hard for her family to
adjust to their changed circumstances. And then, one day, Sonia's father
goes missing. Now Sonia wonders if she ever really knew him. As she
begins to look for answers, she must decide what really matters and who
her true friends are—and whether her two halves, no matter how
different, can make her a whole.
Review: I mention only reading the first paragraph for the summary above because the second part gives away a big moment in the book. Sure, you can read it and still enjoy the book, like I did. However, once I'd read the summary, I found myself waiting for this specific moment to occur and it doesn't until later in the novel. Now that we're past that though, I have to say that I did like this book. It's not a new favorite of mine but it does deal with a lot of important topics in a good way.
Sonia is half Indian (her dad is from India) and half Jewish American (from her mom's side). Her family doesn't really celebrate any Jewish customs though, unless her grandparents are around. This leaves Sonia feeling less than Jewish and not sure what to call herself when it comes to religion. As for her race, she starts getting questions at public school about whether she's black or not. She's not sure what to say because she's lighter than the black kids, but darker than the white kids. Nobody seems to understand that she's half Indian, and Indian as in India and not Native Americans.
I really felt for Sonia because I went to small, private schools until college and I was really nervous about the change. I can't imagine being as young as Sonia and going from a Montessori type school to a public middle school and trying to fit in. She becomes friends with a girl named Alisha, but she starts to ignore her when Kate takes an interest in her. Kate is popular and wants Sonia to be like her. While Sonia likes Alisha and isn't trying to hurt her feelings, she is a bit blind to how she's affecting Alisha and what it might look like since Alisha is black and Kate is white. I hated reading how the black and white kids sit on opposite sides of the lunchroom. It just goes to show that people don't have to be segregated by a government for it to still occur.
Beyond this, Sonia is dealing with family issues since her dad lost his job and is dealing with a lot of depression. It's sad to view it through her eyes since she doesn't fully understand what is going on and she just wants her old dad back.
All in all, this was a good story. I love that it focuses on two important issues in an easy-to-read way. Oh, and this was yet another book for my children's literature class, in case anyone is interested!