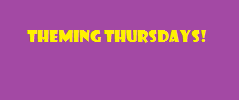 Welcome to a new Shooting Stars Magazine feature! I know, the picture isn't all that great but it's the most basic design I could do at the moment. If you want to do your own Theming Thursday post, feel free to leave your link in the comments and I'll add it to this post and the next Theming Thursday post so people can easily find it.
Basically, you can post about whatever you want as long as it has a THEME. Maybe you want to share books with a certain theme, songs with a certain theme, or even parties with a certain theme! Most of my posts will probably be about parties since I've become obsessed with planning and throwing parties with various themes these last couple years. Sometimes I'll share parties I've actually thrown, but other times I'm going to pick a random party theme and then share ideas I come up with or things I've found online that could help you throw said party. If you want ideas about a certain party theme (maybe one you are planning to throw), let me know!
Today I have ideas for a Lego-themed party in honor of my review for The Lego Movie earlier in the week!
B-Inspired Mama has a fun post about a Lego party she hosted, but she includes a lot of free printables at the bottom of the post that you can edit and print for your own personal use!
The above photo is from her party post to show you one of her games – Pin the Party Hat on the Lego Man. You can print the hat and the lego man (with him just saying Happy Birthday without a name) on her website. Just go here.
This post on Squidoo is basically what I'm doing here, just even better because there are so many Lego ideas. There are lots of free printables too, so definitely check out the entire page. However, I wanted to show you a couple items you can find on the site.
You can get a free Lego party invitation that you download, print, and fill in with your details!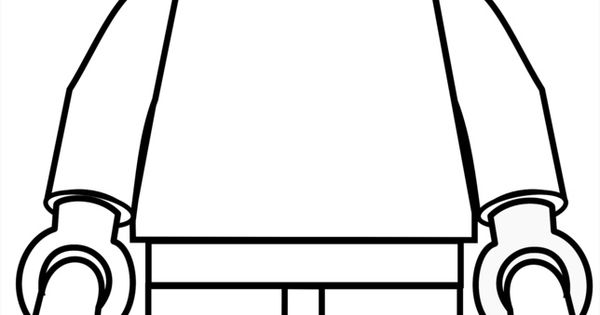 You can also print out these Color Your Own Lego figures. Some parties have the guests color the Legos to look like themselves, but you can do whatever you like! It would make a fun activity, game, and/or decoration for the party!
The above photo shows you what you can find in the FREE Lego party pack from Peonies and Poppyseeds. It includes straw flags, cupcake wrappers, and more. Just download and have it printed out!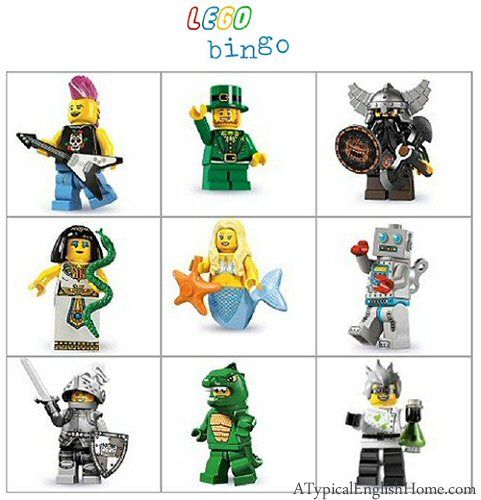 If you want another fun game to do at your Lego party, head over to A Typical English Home for free printables to do Lego bingo!
Babyology shared a fun Lego themed party with lots of food and game ideas you can check out. I just wanted to share one of the simple, cute food ideas they included!
They put Lego-colored jello in cups, putting three cups in a line like an individual lego block!
And finally, another fun way to display food at your Lego party. If you want to serve up some candy, think about creating bowls OUT OF Legos!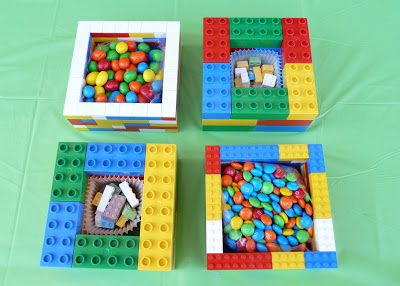 This party idea was used by Bliss Bloom Blog. You can visit the Lego party post for this and more ideas!
That's it for the first Theming Thursday post! Again, if you want to join in or want ideas for a certain themed party, please let me know. I'd be happy to find what I can!