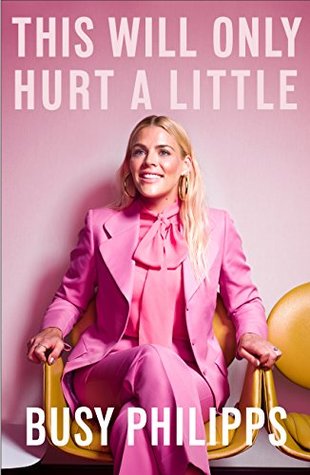 This Will Only Hurt a Little by Busy Philipps
Review by Lauren
Source: personal copy; all opinions are my own
Official Summary (add to Goodreads): Busy Philipps's autobiographical book offers the same unfiltered and candid storytelling that her Instagram followers have come to know and love, from growing up in Scottsdale, Arizona and her painful and painfully funny teen years, to her life as a working actress, mother, and famous best friend.
Busy is the rare entertainer whose impressive arsenal of talents as an actress is equally matched by her storytelling ability, sense of humor, and sharp observations about life, love, and motherhood. Her conversational writing reminds us what we love about her on screens large and small. From film to television to Instagram, Busy delightfully showcases her wry humor and her willingness to bare it all.
Review: Have you ever read a celebrity memoir and wished they were a bit more honest, and it didn't feel like they were just scratching the surface of their lives? Well, then you definitely need to read Busy's book. I'll admit that I haven't seen Busy in a lot of shows or movies – she got her big break, if you will, on Dawson's Creek and that wasn't a show I really watched. However, I've always loved Busy as a person. She's open and honest, funny and frank. You get all of that in her memoir, This Will Only Hurt a Little.
This Will Only Hurt a Little by Busy Philipps - a celebrity memoir that really GOES there! #bookreview #bookbloggers
Click To Tweet
Before Busy becomes the famous Busy Philipps, she goes through a lot. I really felt for high school Busy, and I appreciated that she was open and honest about the things that she experienced. She could easily be judged by people, but I think she sees the power in sharing your story and possibly helping others with a similar one. Once she makes it to Hollywood, she's still honest about the things she experienced and how she feels about certain people – including having to work with James Franco on Freaks and Geeks (spoiler: she's not a fan). I like that she stated her thoughts, but I never felt like she was trying to attack someone or make them look bad. It's just her side of the story, and the things she experienced. She even talks a lot about her own husband and how they almost didn't make it. Definitely candid, and I love her for it. This is a "celebrity" memoir that I'd highly recommend – Busy feels like a real, everyday person, who just happens to have some extraordinary experiences and famous friends (bestie is Michelle Williams).
Oh, and speaking of Michelle Williams – have you noticed that Busy is almost always her date to award shows? This started when Michelle was dating Heath Ledger and they were both being honored for Brokeback Mountain. Since Heath was also a nominee, Michelle decided to start bringing her best friend Busy to join her at the award shows (since she still got a guest)…and the rest is history!
Have you read this one, or do you want to read it? What other celebrity memoirs have you read?