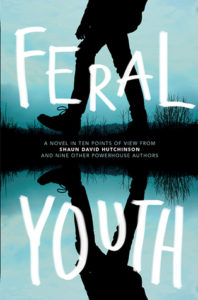 Feral Youth by Shaun David Hutchinson and Nine Other Authors
Review by Lauren
Source: copy from ALA17; all opinions are my own
Official Summary (add on Goodreads): At Zeppelin Bend, an outdoor education program designed to teach troubled youth the value of hard work, cooperation, and compassion, ten teens are left alone in the wild. The teens are a diverse group who come from all walks of life, and they were all sent to Zeppelin Bend as a last chance to get them to turn their lives around. They've just spent nearly two weeks learning to survive in the wilderness, and now their instructors have dropped them off eighteen miles from camp with no food, no water, and only their packs, and they'll have to struggle to overcome their vast differences if they hope to survive.
Inspired by The Canterbury Tales, Feral Youth features characters, each complex and damaged in their own ways, who are enticed to tell a story (or two) with the promise of a cash prize. The stories range from noir-inspired revenge tales to mythological stories of fierce heroines and angry gods. And while few of the stories are claimed to be based in truth, they ultimately reveal more about the teller than the truth ever could.
Review: Each story in Feral Youth is bookended by a contemporary story of ten teens trying to find their way through the woods and back to Zeppelin Bend, the outdoor education program they have all been sent to instead of something worse, like a juvenile detention center. This is the overall story that makes up the book, but the rest of the book is stories that the characters tell, supposedly about past experiences that led them to Zeppelin Bend. This aspect makes Feral Youth both a novel and an anthology, as each story is written by a different author. It's a fantastic idea and I really loved it. I wasn't a huge fan of every single story in the book – which can happen with anthologies – but I did enjoy most of them, so it's a win/win for me all around.
Feral Youth is full of diversity, from racial background to sexual identity. I appreciated that authors were chosen for this book that represented this diversity too! It made everything more realistic and it will definitely appeal to a wide audience.
This book is full of all sorts of different tales, but one of my favorites is "A Cautionary Tale" by Stephanie Kuehn. It's a creepy, ghost story type of tale and it definitely kept me flipping the pages to find out what was happening. Obviously, not all the stories are like this. There are more fantastical tales, but there are also some very much rooted in the here and now. A nice, eclectic mix!
Three Book Reviews - All Anthologies #bookbloggers #ontheblog
Click To Tweet
Welcome Home, edited by Eric Smith
Review by Lauren
Source: ALA17; all opinions are my own
Official Summary (add on Goodreads): Welcome Home collects a number of adoption-themed fictional short stories, and brings them together in one anthology from a diverse range of celebrated Young Adult authors. The all-star roster includes Edgar-award winner Mindy McGinnis, New York Times bestselling authors C.J. Redwine (The Shadow Queen) and William Ritter (Jackaby), and acclaimed YA authors across all genres, like Adi Alsaid, Lauren Gibaldi, Sangu Mandanna, Karen Akins, and many more.
Review: I think that adoption and foster stories are important, as there are so many kids out there in foster care or who have been adopted. While I have not personally dealt with either, I am surrounded by it. One of my friends has mostly adopted siblings. Three friends of mine – all sisters- were adopted by the same family. My own father was in a children's home and various foster homes at different points in his life – and some of his siblings were officially adopted out of the family (though we've found and met all of them now). Because of all this, I was excited to hear about the book Welcome Home: An Anthology On Love and Adoption.
One of the things that I love about this anthology is that the end of each story, there is a small biography of the author and then a paragraph or two from them about why they wanted to be part of the anthology, or why stories of adoption are important to them. It was a really nice touch that I fully appreciated. Another aspect of this book that is great is that not all of the stories included are contemporary. There is science fiction, fantasy, and even a story where the main character's parents are stuck in the year 1985 ("Carlos and the Fifteen-Year-Old Heart" by Adi Alsaid). There really is a little something for everyone. There is also a lot of diversity within these stories, which is always needed!
One of my absolute favorite stories from this anthology is "A Kingdom Bright and Burning" by Dave Connis. It's a bit difficult to talk about this one without giving things away, but it's almost a mix of fantasy and contemporary. It's just an amazing story about the power of patience and love. Definitely one of the more unique stories included in this anthology. Definitely grab a copy and discover it – and the rest – for yourselves.
Behind the Song by K.M. Walton
Review by Lauren
source: copy from Netgalley; all opinions are my own
Official Summary (add on Goodreads): A song to match everyone's heartbeat.
A soaring melody, a pulse-pounding beat, a touching lyric: Music takes a moment and makes it a memory. It's a universal language that can capture love, heartbreak, loss, soul searching, and wing spreading—all in the span of a few notes. In Behind the Song, fourteen acclaimed young adult authors and musicians share short stories and personal essays inspired by the songs, the albums, the musicians who move them.
So cue up the playlist and crank the volume. This is an anthology you'll want to experience on repeat.
Review: Going into this, I actually thought the whole anthology was short stories based on songs. Instead, we get some of those, plus essays from musicians about one of their songs and even some essays by authors concerning a favorite song. I love the idea of Behind the Song but I almost wish there were more short stories, as those were my favorite. I love matching songs to books, so to do the opposite is exciting!
While this wasn't my most favorite anthology, I do think it's worth checking out at some point. One of absolute favorite stories in the book was from author Anthony Breznican and it's seriously amazing – terrifying, but amazing. It's based on The Killer's "Miss Atomic Bomb", which I definitely need to listen to now. That's one thing the book does well – it makes you want to listen to all of these songs and find the story within!
All in all, this wasn't a bad anthology, but I still wish it had more short stories!