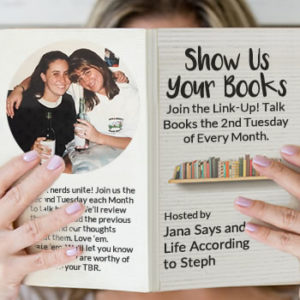 Time for Show Us Your Books with Jana Says and Life According to Steph.
Today, I'm going to share three mini reviews of books that I've read in the past month. I'm also making these all Styled Book Reviews, where I share fashion and other products that suit a character, the book as a whole, or even goes along with the cover! Everything in the widgets is an affiliate link; click or purchase and I get a small percent (no extra cost to you).
Show Us Your Books: Three Book Picks + Gifts to Go With #ontheblog #bookbloggers
Click To Tweet
The Gentlemen's Guide to Vice and Virtue by Mackenzi Lee
Review by Lauren
source: personal copy; all opinions are my own
Read the Summary on Goodreads
I've wanted to read this book for a long time, and I finally found the time to do so and boy did I love it! It's every much as enjoyable as I thought it would be, and as other reviews made me believe it would be. This book follows Monty who is going on a year-long Grand Tour of Europe with his sister, Felicity, and best friend, Percy. Monty has been in a lot of trouble – getting drunk, being expelled from school, and bedding girls and boys. I loved Monty though. He's not as aware of other people's circumstances as he could be, but he learns as the book goes on. He's in love with Percy, but he doesn't get how Percy's life is very much different from his own  – they are both part of affluent families but Percy is biracial and that will always hold him back in the eyes of some.
This book is full of fantastic history, amazingly well-written characters, and enjoyable humor! You'll learn, you'll laugh, and you'll feel. I cannot wait for the companion novel, this time following Felicity! 5/5 stars for sure!
Styled: Since Monty and company are on their Ground Tour of Europe, I thought I'd share some items perfect for travel.
Into the Black Nowhere by Meg Gardiner
Review by Lauren
source: copy from e-library; all opinions are my own
Read the Summary on Goodreads
I put Into the Black Nowhere on hold through my local e-library and I was ecstatic when I was finally sent the email saying I had the book. This is the second book in the Unsub series (the first is called Unsub) and the main character, Caitlin Hendrix, is now an FBI Profiler. I won't say much else about that since I don't want to spoil the first book. I will say that this was a fascinating book and I'm so excited there there will be a third. The first book leaves with a bit of a plot point that needs to be addressed, but it's not focused on too much in this book. I think that will come back around in the third novel. Regardless, Into the Black Nowhere is a really good book about a Ted Bundy type of serial killer that Caitlin and her team are hunting down before he continues to kills. The identity is revealed about halfway through the book, but that doesn't lessen the suspense and enjoyment. Read this series! I give this one 4/5 stars.
Styled: Going with the cover, I decided to style this book with All Things Red!
The Alienist by Caleb Carr
Review by Lauren
source: e-library; all opinions are my own
Read the Summary on Goodreads
I'd never heard of The Alienist until the limited TV series was about to air. I knew I wanted to watch the show, so I started taping the episodes. Finally, I decided that since I hadn't watched the show yet, I would go ahead and read the book and I'm really glad I did. I'll have to come back and share my thoughts on the series once I've watched all of it, but I can say that the book is just fascinating. The book takes place in New York, 1896, and it follows a group of characters on the hunt for a serial killer – not that that term was known then. The book is called The Alienist because one of the main characters is Dr. Laszlo Kreizler, a psychologist or "alienist" as they were often called at the time.
I recommend reading the summary to get more specific details about the book, but basically, I do recommend. It's a quick read full of suspense. It keeps you reading, wanting to know just who is this monster who is killing young boys around New York, but also why he feels compelled to do this in the first place. That's something that fascinates Dr. Kriezler – he wants to know the "why" and not just the "who." I give this one 4/5 stars!
Styled: This one was a bit more difficult to Style, but I decided to go with a New York theme since the book largely takes place in the state.
I'd like to take this opportunity to remind you about the new
Book Blogger Group
that I created on Facebook. If you EVER write about books on your blog, you can join. You're more than welcome to share non-book posts. The idea is to meet new bloggers and hopefully get some new comments. However, even if you don't get comments, I'm hoping that people are clicking links and giving more views at the very least because that's just as important. If you do the Show Us Your Books tag, you count as a "book blogger" and are welcome to join! Feel free to use the above image and share it – just link to the group
here
.