"Take on me…take me home…"
Psych Slumber Party is well underway. First episode down (Last Night Gus) and now it's time for…American Duos! This is one of my favorite Psych episodes. Singing Shawn and Gus? What else do you need? (Yes, the gif above is from the episode…though I did not make it).
My sister is currently drinking the awesome hot chocolate we were sent in the Slumber Party kit, and LOVING IT! You can't enjoy Psych without refreshments. You better have some on hand for the season 7 premiere (February 27th at 10/9c)!!!
Now, back to American Duos…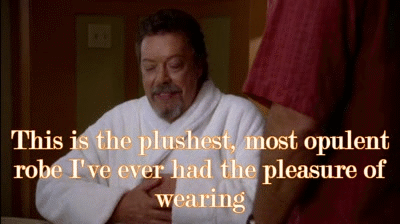 Yes, that IS Tim Curry (Clue, Rocky Horror Picture Show, etc.). Psych has some of the best guest stars (especially if you're a fan of the 80's!) You need to be watching this show so you don't miss any of the goodness.
Oh yeah, they're rockin' it!
I hope you're all enjoying the awesome-ness of Psych! If you aren't, then I hope you'll tune into the new season in about a week and a half! Hardly any time at all. I can't wait! If you don't hear from me again on here, don't worry…I'll write you all back when I can. Off to enjoy the rest of the Psych Slumber Party! Don't forget to check my Tumblr too!