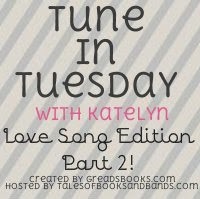 Since this is the month of all things love, Tune in Tuesday is asking for people to post some of their favorite love songs. I don't know if I'll do it all month, but I figured I'd at least do it this week since I really love this song.
"Dress and Tie" by Charlene Kaye ft. Darren Criss

This is one of those songs that would make a nice first dance for a wedding. A friend of mine actually said that, but I always think of it now. Too bad she will probably get married before me and use it! haha At any rate, I've seen Charlene do this song live and it's wonderful. You can hear it below, and the video includes the lyrics!
"but i'll wear that dress if you wear the tie
and baby we'll dance through the night
cuz no one's got what we've got going
happiness never held on to me
until you had me see
that together we're just better off"