TV Talk: The Following

Review by Lauren

do not own any images

Starring: Kevin Bacon, James Purefoy, Shawn Ashmore, etc.

Zap 2 It Premise: When serial killer Joe Carroll escapes from death row, the FBI calls on Ryan Hardy, the former agent who put him behind bars nine years earlier. While the team starts out thinking of Hardy as a liability, he proves his worth when he figures out that Carroll had been communicating with a network of killers while he was in prison and that they were planning more than just his escape. When Carroll's intended last victim from before his incarceration is kidnapped, it becomes clear that the psychopath means to finish what he started.

Review: The Following just aired its pilot episode this past Monday and it's already one of my new favorite shows. Seriously, it's very good. Your heart will ache for Kevin Bacon's character, Ryan, because of all he put into this case and everything he's lost. At the same time, he's a fighter and will not quit until the job is finished.

As for serial killer Joe Carroll, actor James Purefoy is creepy and sinister…but even moreso due to the scenes from the past where you can see how ordinary he looks. He's a good-looking, British man, who is a professor of romantic literature (with an intense love for Edgar Allan Poe). If you didn't know he was a serial killer, I think most people would find him charismatic, and that's obviously the truly scary part.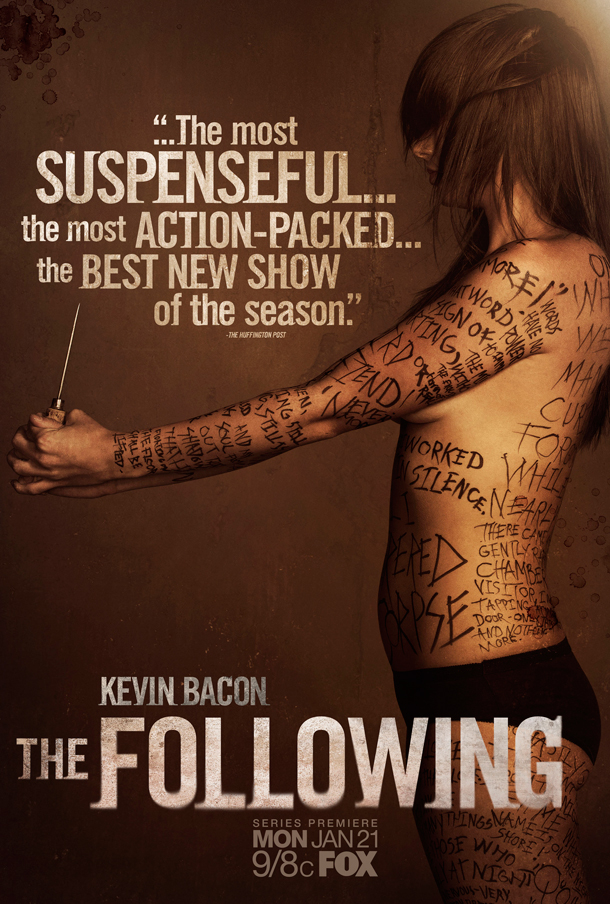 She has The Raven by Poe written on her body

Speaking of the Poe connection, that's kind of a nice twist on the story too. Carroll taught Poe and the people he killed nine years ago had their eyes removed due to Poe's stories that focus on eyes and how it represents people's souls. There is even references to The Raven and scenes from this upcoming season show that the Poe mentions will still be going strong. It's just another plus for me!



Finally, here is the Storyline, courtesy of IMDB that gives you more insight into what will come this season:

The FBI estimates there are currently over 300 active serial killers in the United States. What would happen if these killers had a way of communicating and connecting with each other? What if they were able to work together and form alliances across the country? What if one brilliant psychotic serial killer was able to bring them all together and activate a following?