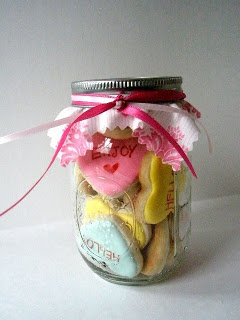 The above photo is an item you can buy on Etsy right now from Sweeties Bake Shop. And I'm really craving this. It's a mason jar filled with mini heart cookies with fun Valentine's Day sayings like "Be Mine" and even just "Hello" or "Enjoy." It's cute and simple and would be loved by many.
As soon as I saw this jar, I was dying to get my hands on it. I'd love to have this around the house for February…or really, any time. I know my whole family would love the cookies but the presentation is just really fun and cute. My mom would certainly love it!
If you're looking for a little something for that special someone…or even just a friend…definitely think about picking up one of these jars. I love Etsy. They have some of the most fun and unique gifts. Try it out!!
You can buy this product right here. It's called the Talking Sweethearts in a Mason Jar and guess what?! It's only $10!! I think that's a steal!
~Lauren
Note: This is in no way a sponsored post. I did not review this product. I just saw it and wanted to share my love.