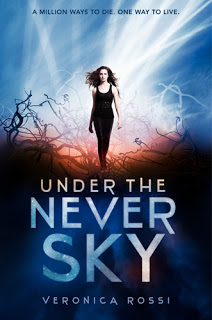 Under The Never Sky by Veronica Rossi
Publisher: HarperCollins
Age Group: YA, 14+
My Copy: ARC
Source: Publisher
Format: Hardcover, 384 pgs.
Release Date: 1/3/12
—
Review by: Alicia
—
Summary:
EXILED from her home, the enclosed city of Reverie, Aria knows her chances of surviving in the outer wasteland–known as The Death Shop–are slim. If the cannibals don't get her, the violent, electrified energy storms will. She's been taught that the very air she breathes can kill her. Then Aria meets an Outsider named Perry. He's wild–a savage–and her only hope of staying alive.
A HUNTER for his tribe in a merciless landscape, Perry views Aria as sheltered and fragile–everything he would expect from a Dweller. But he needs Aria's help too; she alone holds the key to his redemption. Opposites in nearly every way, Aria and Perry must learn to accept one another to survive. Their unlikely alliance forges a bond that will determine the fate of all who live under the never sky.
Review:
Under The Never Sky was the first book of 2012 that I read, and what a fantastic way to start off 2012 books! If the rest of the books published this year are as amazing as Under the Never Sky, then 2012 will be an awesome book year. Within the first few pages, I was totally hooked and had to continue reading.
Under the Never Sky is told from Aria and Perry's perspectives in third person. I'm normally not a fan of third person, but I ended up really enjoying it. Aria and Perry have very different and distinct voices, so it was easy to switch from Aria to Perry.
I absolutely loved Aria and Perry's relationship and the way it developed. The way their relationship changed and developed was very realistic, which was awesome. Aria and Perry start out hating each other, and watching that hate turn to respect, followed by friendship and finally love was a joy. It was just…perfect. Their relationship was one of my favorite parts of the book.*
The world building was extremely fascinating. Learning about Aria's life in the pods and Perry's life in the outside with the Aether storms had me captivated. It was really interesting to see how different the two places are. Also, there are cannibals in here. Cannibals! Reading about them was extremely creepy, but I enjoyed it.
The only complaint I have is the last chapter. And that is because I wanted details about what happened. Other than that, I loved everything else.
Overall, I highly recommend Under the Never Sky as it has become one of my favorite books. Though it has been a few months since I read it, I still think about it and I can't wait to get my hands on the sequel.
Book two, Through the Ever Night**, will be out in early 2013.
Cover Comments: Love it! I think it fits the book perfectly, but I wish they hadn't changed the font of the title. (you can see the original font here.) I'm glad the colors are bolder though.
Overall: 5/5
*I could talk all day about how much I loved them.
**I am totally in love with the titles of the books.