do not own any images
Merry Christmas everyone! We are coming to the end of the A to Z Gift Guide. Thanks so much for following along and leaving your thoughts. I know this is a lot of information, but I do hope you'll keep track of the shops/items you found the most interesting for possible purchase or gift giving!
Alright, we have some other cookies, but these are of a different sort! I've actually known about this company for awhile now, and I am still dying to get my hands on some of these. Hopefully sometime in 2013! They really do look like little pieces of artwork- or actual fruit!
If you visit this link, you'll see what types of fruits and veggie cookies you can order and how the flavor matches up to the look. For example, a Strawberry is a Strawberry Cream Flavor and the Eggplant is the Eggnog flavor.
Christmas might be happening today, but you can still have fun with these snow tins all throughout January (and maybe even into February, depending on your weather situation).
I have no idea what these cookies taste like, but they have such a unique look and the company offers a ton of different flavors…so I'm more than willing to check them out. What about you?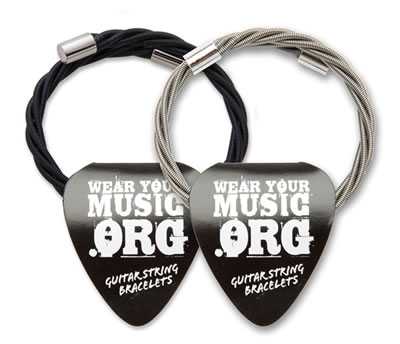 do not own any images
To be honest, I was given a guitar string bracelet for review and giveaway awhile ago…and I even did a giveaway for one of them, but never found a winner. My faultiness on this is your gain because I'm finally going to hold a giveaway and find a winner!
But back to Wear Your Music, who make some awesome bracelets made from actual guitar strings. How cool is that?! This would be a perfect stocking stuffer for that musical fashionista, or even just a music lover, in your life!
If you don't like bracelets, you can also purchase rings or even a unique gift idea with the record bowl!
Besides the bracelets, one of my other favorite items from the shop is their Guitar Neck Jewelry Stand. Seriously, you know you want one of these! And it's only $14.95, which is awesome!
You know what the best part of Wear Your Music is? You can actually buy bracelets made from guitar strings of your favorite artists!
The site says:
Each guitar string bracelet is hand crafted from recycled fine silver and guitar strings used and donated by the artist you select. The bracelets must slip over your hand unless a custom clasp is added: please size accordingly. Bracelets are packaged in DVD cases with certificates of authenticity. Profits are donated to charities selected by the artists. Each bracelet is custom made upon order and production time can take up to three weeks before item ships.
You can get something from Dennis Casey of Flogging Molly, Kris Allen (winner of American Idol), Aaron Fink of Breaking Benjamin, Foster the People, and more! These are obviously much more expensive…around $100 or more, but an awesome, very unique gift for a true fan!
And now…giveaway (for a simple, silver guitar string bracelet)!!
Leave one comment below with what you like about Wear Your Music.
Leave another comment below if you like Wear Your Music on facebook.
Leave another comment below if you follow my blog in any way (let me know how)
This is open to International entries (Merry Christmas and all that!) and will end on Friday, January 4th at 11:59 p.m. EST.