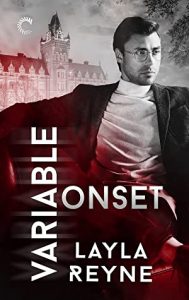 Variable Onset by Layla Reyne
Source: copy from Netgalley; all opinions are my own
Official Summary (add to Goodreads): When the serial killer known as Dr. Fear seemingly reemerges after a cooling-off period, Special Agent Lincoln Monroe wants on the case. He knows his research on the calculating criminal, who targets couples and uses their worst fears to kill them, could prove invaluable. But nothing can prepare Lincoln for the agent waiting for him in Apex, Virginia: a brash and cocky former student. Carter Warren is everything Lincoln is not, and somehow everything he wants. And they'll be going undercover. As newlyweds.
For Carter, seeing Lincoln again—and flustered to boot—pokes his raging bear of a crush something fierce. He thinks posing as lovers will provide the perfect bait for Dr. Fear. But pretending to be married forces them to confront fears of their own…like giving in to the very real chemistry between them.
With evidence pointing to the possibility of a copycat killer, Lincoln and Carter will have to race to separate truth from fiction. But when another couple goes missing, finding the killer will test every ounce of their training, skills and the strength of their bond like never before.
Review: First and foremost, Variable Onset is a mystery novel. Yes, there is an eventual romance, but it's very much slow burn and background to the overall story. I don't say this to scare you away, because I seriously loved this book and think everyone should read it. Special Agent Lincoln Monroe is a professor with years of research on the serial killer Dr. Fear. His former student and current field agent, Carter Warren, has a new lead on the killer, and the two of them go undercover as husbands in order to learn more.
I find books about serial killers to be fascinating – what makes them tick? Why do they choose their victims? Where do they come from? All of these were questions I had about Dr. Fear, as did Lincoln and Carter, of course, who are desperate to stop him once and for all…except now there might be a copycat killer involved too.
I loved both Lincoln and Carter. They are definitely different in a lot of ways, but they work well together and bring out the best in one another. There are obvious sparks between the two – and now that they aren't professor and student, they can finally act on them. And they do. Not anything too steamy during the case, but they are slowly growing attached and I loved watching them learn to really trust each other.
I don't know if Variable Onset will be a series or not, but I kind of hope we can get more cases with Lincoln and Carter!
Let's Talk about Serial Killers - Variable Onset by Layla Reyne #bookreview #ontheblog
Click To Tweet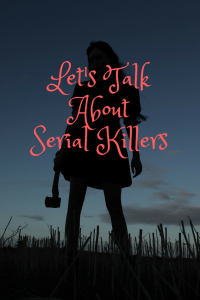 It's been awhile since I used this graphic!! Anyway, Dr. Fear was a really intriguing serial killer in Variable Onset. He kidnaps people and uses their biggest fears against them – the dark, fire, etc. What he leaves behind is a prescription detailing what the person is most afraid of, aka Dr. Fear. I loved "working" the case with Carter and Lincoln and I didn't piece together what was happening or who was all behind it until the guys did.
So tell me, if you dare, what's your biggest fear?