Waiting on Wednesday is a weekly event hosted by Jill at Breaking the Spine that
spotlights upcoming releases people are excited for.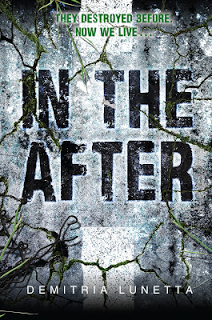 Author: Demitria
Lunetta
Publisher:
HarperTeen
Format:
Hardcover,
400 pages
Release Date:
June 25, 2013

Summary:
They hear the most silent of footsteps.
They are faster than anything you've ever seen.
And They won't stop chasing you…until you are dead.

Amy is watching TV when it happens, when the world is attacked by Them. These
vile creatures are rapidly devouring mankind. Most of the population is
overtaken, but Amy manages to escape—and even rescue "Baby," a toddler left
behind in the chaos. Marooned in Amy's house, the girls do everything they can
to survive—and avoid Them at all costs.

After years of hiding, they are miraculously rescued and taken to New Hope, a
colony of survivors living in a former government research compound. While at
first the colony seems like a dream with plenty of food, safety, and shelter,
New Hope slowly reveals that it is far from ideal. And Amy soon realizes that
unless things change, she'll lose Baby—and much more.

Rebellious, courageous, and tender, this unforgettable duo will have you on the
edge of your seat as you tear through the pulse-pounding narrow escapes and
horrifying twists of fate in this thrilling debut from author Demitria Lunetta.
I've been wanting to read
In the After
ever since the deal for
it was announced. It is one of my most anticipated books for this year.
I pretty much only read books that have romance in them (it doesn't have to be a huge part of the book, but there has to be something), but it looks like there isn't a romance in In the After, and I don't even care because the book looks sooo good. I can't wait to read about Amy and Baby, and find out about Them.
I just really want to read In the After! June 25 can't get here soon enough!
What
are you waiting on?

-Alicia