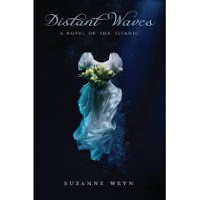 Distant Waves: A Novel of the Titanic
By: Suzanne Weyn
Science, spiritualism, history, and romance intertwine in Suzanne Weyn's newest novel. Four sisters and their mother make their way from a spiritualist town in New York to London, becoming acquainted with journalist W. T. Stead, scientist Nikola Tesla, and industrialist John Jacob Astor. When they all find themselves on the Titanic, one of Tesla's inventions dooms them…and one could save them.
Doesn't it sound awesome? I just heard about this book and I love the idea behind it. I'm quite intrigued to see what the whole story is about. The cover is amazing as well.
Out: April 15
17 Again
I can't really find a summary for the film, but I've included the trailer below. Basically, Mike is given a shot to be 17 again (played by Zac Efron) and with the help of his friend (from when he was 37), he goes back to school…the same one his two kids go too actually.
I think this sounds like a really fun film, and it looks hilarious as well!
Out: April 17
You can find the trailer here: http://www.youtube.com/watch?v=CW9TkWY6Cng
Sorry if the dates for either of these are off, but I'm pretty sure it's right!