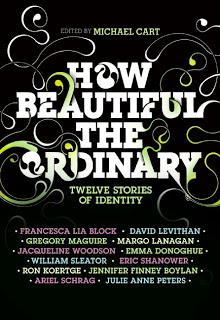 How Beautiful the Ordinary
Twelve Stories of Identity

By Michael Cart, Francesca Lia Block, David Levithan, Ron Koertge, Eric Shanower, Julie Anne Peters, Jennifer Finney Boylan, William Sleater
Apparently this is out now, though I thought it wasn't out until December!

Summary from Amazon:
A girl thought to be a boy steals her sister's skirt, while a boy thought to be a girl refuses to wear a cornflower blue dress. One boy's love of a soldier leads to the death of a stranger. The present takes a bittersweet journey into the past when a man revisits the summer school where he had "an accidental romance." And a forgotten mother writes a poignant letter to the teenage daughter she hasn't seen for fourteen years.
Poised between the past and the future are the stories of now. In nontraditional narratives, short stories, and brief graphics, tales of anticipation and regret, eagerness and confusion present distinctively modern views of love, sexuality, and gender identification. Together, they reflect the vibrant possibilities available for young people learning to love others—and themselves—in today's multifaceted and quickly changing world.

Why I Want to Read!
by: Lauren
It's a collection of short stories for one and that's always great when I'm swamped with reading but really want to try something new. I also love anything that deals with GLBT fiction and I'm excited to see what all these authors have included in the book. What do you all think? Has anyone read this yet? I don't remember seeing it on a blog anywhere…
Oh, and does anyone know of any upcoming GLBT books that are coming out at the end of the year or in 2010?!