First off, sorry for the lack of commenting/posts this week. I know it hasn't been that empty but my computer is having some trouble so if things do slow down a bit, that's why! I'll be back soon though.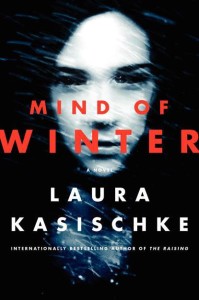 Mind of Winter by Laura Kasischke

Due Out: March 25 (so not too long!)

Official Summary: On a snowy Christmas morning, Holly Judge awakens with the fragments of a nightmare floating on the edge of her consciousness. Something followed them from Russia. Thirteen years ago, she and her husband Eric adopted baby Tatty, their pretty, black-haired Rapunzel, from the Pokrovka Orphanage #2. Now, at fifteen, Tatiana is more beautiful than ever—and disturbingly erratic.

As a blizzard rages outside, Holly and Tatiana are alone. With each passing hour, Tatiana's mood darkens, and her behavior becomes increasingly frightening . . . until Holly finds she no longer recognizes her daughter.
Why I Want to Read: I've been really into mysteries/thrillers lately and I think this one sounds fascinating. There isn't much I can say, to be honest. I just hope it's as interesting as it sounds. I really like the cover too!