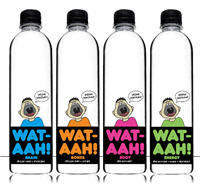 Wat-AHH!
I took the Wat-ahh challenge…well, as best as I could. The main idea is to see if your kids or kids in general will pick Wat-ahh over their normal drinks such as kool-aid or even soda, which is obviously much worse for you and your health!
I took the challenge at my house (without the kids part) but I also gave some of the bottles to some younger kids I know. These girls were both under the age of 10 and they normally don't mind drinking water (so that's a help…) but they LOVED these. Instead of putting them away in the refrigerator right after they got them, they carried it around while they played and went around screaming "wat-ahh" as it is quite a fun word to say. All the bottles have a different name as well from body to brain and so on. This definitely amused them as they "fought" over who had the better bottle. I'd say it was a hit!
As for my house, I enjoyed the bottles and my mom did too. It might have a kid-friendly design but it made me smile when I went to pick it out and drink some. My mom wanted to mention that she loves the shape of the bottles. Other water bottles have ridges and this one was smooth all around so it fits MUCH better in your hands…I do agree, so that's definitely a plus! Again, it's a hit.
If you want to see more "witnesses" to this challenge, go here: