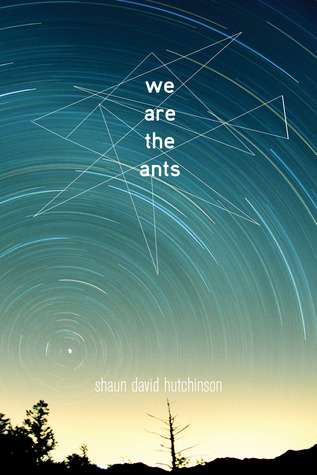 We Are the Ants by Shaun David Hutchinson


Review by Lauren


Source: copy for review; all opinions are my own


Official Summary: Henry Denton has spent years being periodically abducted by aliens. Then
the aliens give him an ultimatum: The world will end in 144 days, and
all Henry has to do to stop it is push a big red button.
Only he isn't sure he wants to.
After
all, life hasn't been great for Henry. His mom is a struggling waitress
held together by a thin layer of cigarette smoke. His brother is a
jobless dropout who just knocked someone up. His grandmother is slowly
losing herself to Alzheimer's. And Henry is still dealing with the grief
of his boyfriend's suicide last year.
Wiping the slate clean sounds like a pretty good choice to him.
But
Henry is a scientist first, and facing the question thoroughly and
logically, he begins to look for pros and cons: in the bully who is his
perpetual one-night stand, in the best friend who betrayed him, in the
brilliant and mysterious boy who walked into the wrong class. Weighing
the pain and the joy that surrounds him, Henry is left with the ultimate
choice: push the button and save the planet and everyone on it…or let
the world—and his pain—be destroyed forever.
Review: If you read the official summary, I think it's obvious to see that We Are the Ants is an intense, emotional book. It's realistic and sometimes tough to read. But it also has funny and lighthearted moments. It's life, seen through the eyes of Henry Denton.
Henry lost his boyfriend to suicide the previous year and since then, he's not sure life is worth living. If Jesse Franklin gave up, then it would make sense if Henry did too. Instead of taking his own life, Henry thinks about not pushing the red button that would save the entire Earth. For years, Henry has been abducted by aliens. They experiment on him and then send him back, often far from home and not always wearing clothes. Henry deals with it, like every other bad or upsetting thing in his life. Then, one day he's abducted, and there is a red button that he realizes will save the Earth from ending and he, Henry Denton, has been chosen to make the choice. Push it and keep suffering. Don't push it and await death. The aliens were an interesting addition to this realistic story. Are they real? Is Henry delusional?
The button is a big choice and you might think you would push it if you were Henry, but honestly, it's not that simple and Hutchinson does a great job showing the good and bad that the world can hold. Henry lost his boyfriend, his grandma is losing her memories and suffering because of it, his mom is working hard everyday trying to make ends meet because her husband and Henry's dad left them, and Henry's brother Charlie is going to be a father and Henry's not sure Charlie is ready for that.
Besides everything in his family, Henry is Space Boy. His brother Charlie told everyone about Henry's "abductions" when he was in high school and now everyone knows Henry as this moniker. Nobody uses it more than Marcus and his friends, who are set on making Henry's life a living hell. What's even more awful about this situation is that Marcus and Henry have been hooking up for months. Marcus uses Henry because he won't tell anyone and Marcus isn't out as gay. Henry uses Marcus because he's not-Jesse and he helps him forget. It would almost work if Marcus didn't call Henry Space Boy all the time at school or take part in other, really upsetting abusive actions toward Henry. The relationship between Henry and Marcus made me go back and forth. I saw the good in some parts and in Marcus, and then things happened that radically changed my opinion. We Are the Ants keeps you guessing and experiencing right alongside Henry.
It's easy to see that Henry is depressed and that he can't see the good in the world. Why live when he'll only ever be Space Boy? Why let his grandma suffer for years before she passes? Why let Charlie and his girlfriend Zooey bring a baby into this messed up world?
One of the spotlights in Henry's life is Diego Vega, a new student, who soon befriends Henry. This spotlight isn't always bright though. Diego has his own issues. He wants Henry to want to push the button for himself, but Henry isn't even sure why Diego moved to Florida in the first place. What is Diego hiding? Can Henry let go of Jesse that easily, even if Diego is straight and just a friend? So many questions, and Henry is left to make the biggest decision. I really liked Diego as a character. He is trying to find himself and he wants Henry to see the future as a choice that he can make. He is a positive point in Henry's life, but he also has darkness in his past that could disrupt Henry's thinking.
Overall, this was an amazing book. I added it to Goodreads the other day and gave it 5 stars. It's definitely one I hope a lot of people read and discuss. It gives you a lot to ponder, and it's full of multi-faceted secondary characters, some I haven't even mentioned in this already too long review. Shaun David Hutchinson is one I will continue to read!