I'm sharing two book reviews because they are both released today. While I enjoyed both of them, I will say that out of the two, I highly recommend We Now Return to Regular Life by Martin Wilson. This is one of my favorite 2017 reads and I need to get a complete copy ASAP. Check it out today! I'm also looking for a couple more bloggers who would like a copy to review (U.S. only) – or bloggers that would like to do a mini interview with Martin. If you're interested, please comment with your email or email me direct: Lauren51990 AT aol DOT com. Thanks!
We Now Return to Regular Life by Martin Wilson
Review by Lauren
source: copy from ALA 17; all opinions are my own
Official Summary (add on Goodreads): Sam Walsh had been missing for three years. His older sister, Beth, thought he was dead. His childhood friend Josh thought it was all his fault. They were the last two people to see him alive.
Until now. Because Sam has been found, and he's coming home. Beth desperately wants to understand what happened to her brother, but her family refuses to talk about it—even though Sam is clearly still affected by the abuse he faced at the hands of his captor.
And as Sam starts to confide in Josh about his past, Josh can't admit the truths he's hidden deep within himself: that he's gay, and developing feelings for Sam. And, even bigger: that he never told the police everything he saw the day Sam disappeared. 
As Beth and Josh struggle with their own issues, their friends and neighbors slowly turn on Sam, until one night when everything explodes. Beth can't live in silence. Josh can't live with his secrets. And Sam can't continue on until the whole truth of what happened to him is out in the open.
Review: There really isn't a review that I could write for this book that would do it justice. I will say that you should go in knowing this book is told in Josh and Beth's point of views, but I felt like you got to know Sam through them, as well as what he went through. I think it was an interesting choice not to give Sam's point of view, but a good one. It would have been a vastly different novel if Sam was telling readers what he went through for those years he was missing. With Josh and Beth's story, it's still sad and upsetting, but they also bring a source of hope and light to the book. They both have different ways of viewing Sam and his disappearance, and it really shows that when something like this happens, it affects a variety of people in different ways.
Sam went missing, but he's home now. This is his sister and friend's story. #bookreview
Click To Tweet
Like I said, this is a difficult book to review, so I'm not going to ramble too much. Just know that it's a 5 star read for me. It felt wonderfully realistic and the characters acted like real people – the good and the bad. Nothing is easy, not even a reunion of this sort because there is still the past to deal with. This book is about what happens when something miraculous occurs and then life continues. This is the "happily ever after" part of the book. I love the title – it's definitely suiting! Check this one out now – add it to Goodreads, order your own copy, ask your library for it.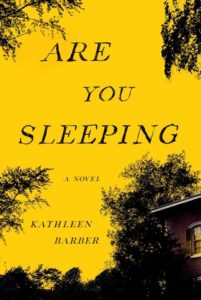 Are You Sleeping by Kathleen Barber
Review by Lauren
source: copy from ALA 17 and Netgalley; all opinions are my own
Official Summary (add on Goodreads): Josie Buhrman has spent the last ten years trying to escape her family's reputation and with good reason. After her father's murder thirteen years prior, her mother ran away to join a cult and her twin sister Lanie, once Josie's closest friend and confidant, betrayed her in an unimaginable way. Now, Josie has finally put down roots in New York, settling into domestic life with her partner Caleb, and that's where she intends to stay. The only problem is that she has lied to Caleb about every detail of her past—starting with her last name.
When investigative reporter Poppy Parnell sets off a media firestorm with a mega-hit podcast that reopens the long-closed case of Josie's father's murder, Josie's world begins to unravel. Meanwhile, the unexpected death of Josie's long-absent mother forces her to return to her Midwestern hometown where she must confront the demons from her past—and the lies on which she has staked her future.
Review: I find podcasts and true crime fascinating, so I loved the premise of this book. However, the lady in this book who starts the podcast, Poppy Parnell, seems more focused on good ratings than truly helping anyone. She starts the podcast because the mom of the man who was convicted of killing Josie Buhrman's dad years before doesn't believe he actually did. Poppy isn't sure either way, but she starts to dig into the past. I do think the justice system gets it wrong sometimes and it's great when people can help someone who has been wrongly accused, but Poppy investigates without seeming to care how she is affecting Josie and her family. This was her dad who was murdered. Her mom left the family after it happened, and Josie and her twin, Lanie, haven't spoken in years. They don't need someone stirring up trouble and demanding answers they might not be able to give.
Are You Sleeping focuses on a 13-year old murder: Is the deceased's family hiding something?
Click To Tweet
Despite finding Poppy mostly annoying, I still enjoyed the podcast parts of the book. There were parts of the transcripts included, so readers could see who Poppy was talking to and what she was learning. It was interesting to get a look at Josie and her family when her father died. Readers also learn more about Josie's dad and how certain things he'd done might have led to his death, and it could be someone other than the neighbor boy that was convicted.
I wouldn't say I adored Are You Sleeping, and I did find the answers to be a bit too obvious after awhile, but it was enjoyable nonetheless. I'd be curious to see future books that utilize a podcast, and I'd definitely be happy to read something else by this author in the future.