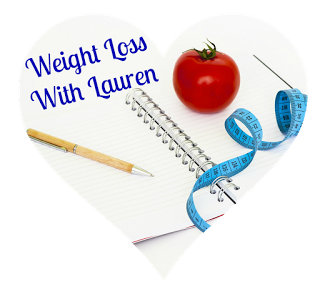 I'm starting my new series today called Weight Loss With Lauren. I hope to have at least one post a month, but it may be more depending on what ideas I come up with, or what questions you all ask me! A lot of you have already heard me talk about my weight loss journey, but for those that aren't aware, I'll use this post to explain what I'm doing!
(please use the following image to Pin!)
Weight Loss Program: This program is through my local hospital. I'm not in the medical field, so anything I share here is based on my own experience and you should never overhaul your diet or health without medical supervision. For me, I started out by seeing a doctor who decided to put me on the Low Calorie Diet (about 1,000 calories a day). There is also a Very Low Calorie Diet. Mine is where I have two meal replacements a day along with one regular meal and any snacks I include. Once I was ready, I saw a dietitian every week to get weighed and discuss how things were going. About a month in, I started seeing a dietitian every other week. The week I didn't see them, I went to a class that was hosted by a dietitian, so I still get weighed every week and can ask questions if I want.
What Are Meal Replacements?: Like I said above, I get two meal replacements which I tend to use as breakfast and lunch, so I can eat an actual dinner, but you're allowed to switch this around and I have before. The brand of the replacement is called New Direction, which always makes me think of Glee. The meal replacement options are soup, beverages, and pudding. I tried one of the soups and it made me feel really sick, so that was out. I didn't try any of the pudding because I've never liked pudding. That means I get two beverages as my replacements. It took about a week before I found the flavors that I liked and those are Mocha and Vanilla. I like mocha the best, but vanilla isn't too bad. You can add a little extract to change the flavor if you want – I've done orange, but I'd like to try something else soon and see what it tastes like.
What About Dinner?: Since I typically save my actual meal for dinner, it's been interesting trying to find what I can actually eat. Veggies are a big one, except I've never really loved veggies, so if anyone has ideas of how to cook them, let me know! At any rate, I've eaten a lot of pork chops when I want something relatively easy. I've tried various recipes though too – some I've gotten from the hospital and others I have found online through the Diabetes website, etc. I even got a couple cookbooks that I hope to use soon. All of these recipes have to have exchanges listed though, as it makes it much easier for me to figure out what I'm eating.
Exchanges: These are typically called Diabetic Exchanges, so you're likely to find them in Diabetic cookbooks, etc. My exchanges everyday are the following:
Starch: 2
Meat: 4
Veggies: 2
Fruit: 2
Milk: 0
Fat: 1
I have a binder that I got when I first joined the program that breaks down various food and sizes to let you know how much equals one exchange. For example, 14 tiny pretzels is 1 starch. If you eat a 4 oz piece of meat, that's 4 exchanges (for meat, try and keep it at very lean or lean). Peanut butter is a fat, so you only get 2 teaspoons before you've reached 1 fat. I tend to keep my fats for a dessert because I like apples and peanut butter. A large apple is 2 fruits, so that snack/dessert takes your fruit and your fat. It was a bit hard to follow at first, but I've gotten better at it and I have an idea of what most things fall under now. At any rate, having the exchanges listed on a recipe helps me figure out which ones are suitable for me and my current diet.
What Now?: As you read this, I'll be on my 8th week. I've lost almost 19 pounds so far which is amazing. I can tell a little bit, but it's still not terribly noticeable to me. Certain things are fitting better though and that's always a sure sign that something is going right!
I'll stop now because I don't want this to be too long of a post. I have one recipe that I hope to share sometime in the future, and I have a few ideas for other posts to include too, but please let me know if you have questions about this program or anything else I've discussed. I'd love to answer them in a future post!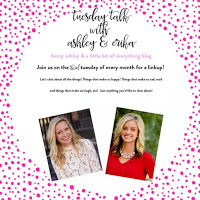 I'm linking up today with Ashley and Erika for Tuesday Talk – where you talk about anything and everything!