Earlier this week I shared my review of the movie Love, Simon, but I also wanted to share some thoughts I got from people via Twitter! The consensus is definitely that this movie is a hit.
Love, Simon: Check out what others have to say (spoiler - they love it) #ontheblog #lovesimon
Click To Tweet
Kathleen said: "Love Simon was incredible! Normally I'm always wary of book-to-movie adaptations but they captured the essence of the book so beautifully."
Melanie said: "Go see @lovesimonmovie this weekend!! This story reminds me why I love working with (for?) teenagers. I wish YA like this had been around when I was a teen bc I have SO many friends who could've seen themselves in the characters. So good!"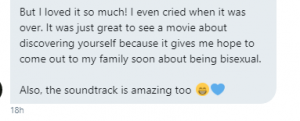 Shelby said: "(But) I loved it so much! I even cried when it was over. It was just great to see a movie about discovering yourself because it gives me hope to come out to my family soon about being bisexual. Also, the soundtrack is amazing too."
Now, this next part is a fan's art based on the book/movie that she shared on Twitter. If you don't know the story, then you might consider this a spoiler, so feel free to skip this next and final part!
*Possible Spoilers Below*
This artwork was created by Jamie from Becoming Bookish.