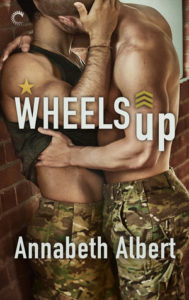 Wheels Up by Annabeth Albert
Review by Lauren
source: copy from Netgalley; all opinions are my own
Official Summary (add on Goodreads): Lieutenant Dustin Strauss is a reformed man. No longer a twentysomething hell-raiser, he's his SEAL team's new XO-and a man with a secret. Or seven. He's kept his bisexual identity under wraps for years, along with his kinky side and a fondness for the military-themed semianonymous hookup website Joe4Joe. His latest chat buddy is more than a sexy online distraction-they're taking their very not-safe-for-work relationship into real time. 
Petty Officer Wes Lowe has a smart mouth, a take-charge attitude and an uncanny ability for making things go boom. The life of an enlisted man isn't always enough to satisfy him, but one wild, no-questions-asked weekend with his online love comes close. When a transfer order comes in, Wes feels ready and centered. He'll make a good impression on his new SEAL team and keep his growing feelings for Dustin on the down low.

But as they log more time online and some very real emotions surface, Dustin and Wes struggle to pretend they're just a harmless fling. And when his commander introduces Dustin to his team's newest member, they're in for the shock of a lifetime…and a crushing disappointment: their difference in ranks means even a friendship without sexual contact could end their navy careers for good.
With their hearts on the line, Dustin and Wes may not survive their next mission, let alone find a way toward a future together.
Review: This is the fourth book in the Out of Uniform series and it was great to get Dustin's story, whose younger brother has his own book (At Attention). Dustin is bisexual but he's never told anyone in his life. He has a gay brother and best friend, so he knows that people would support him. However, he also knows that he's going to disappoint his dad who always tells him at least one son will carry on the family name, settle down and have kids. Instead, he focuses on his military career and ends up making a connection with Wes Lowe on a hookup website called Joe4Joe. Through their time chatting, the two learn a lot about each other and it becomes more than just hooking up. In fact, Wes reaches out to meet up in person when Dustin is in D.C. They have a great time – despite Dustin's nerves – but soon they are back on opposite sides of the U.S. Well, until Wes ends up joining Dustin's team out in California and the two can't even act like friends as Dustin is in charge of Wes and that's fraternization.
Obviously the two eventually end up chatting again more and secretly meeting up at Dustin's condo. Part of it is the physical relationship, but a lot of it is the friendship. They know things about each other that nobody else does, or at least not as well. They are there for each other when they need to be, especially when Wes' sister is back in the hospital for a heart condition she was born with. If you've read the previous books in the series, then I should note that this one has a bit of kink but nothing all that outrageous. I think it would be fine even for people that have never read about it in a romance. I thought the dynamic worked, and it showed different sides to Wes and Dylan. This is a part of them they don't share with other people; only with each other.
I really enjoyed Wheels Up, and I definitely can't wait for more in this series!!
Two #mmromance book reviews: Wheels Up and Lace-Covered Compromise
Click To Tweet
Lace- Covered Compromise by Silvia Violet
Review by Lauren
Source: copy from Netgalley; all opinions are my own
Official Summary (add on Goodreads): Adam Kingston expects to inherit his father's multinational conglomerate. When he finds out half of it went to Nate Thomas—an annoying man whose dreams for Kingston Corp.'s future clash with Adam's need to stave off financial disaster—Adam is furious. He's willing to do whatever it takes to wrest control of Kingston Corp. from Nate.
Nate may be soft-spoken, but he refuses to be swayed by Adam's arrogant demands. When Nate accidentally drops a pair of his lacy panties in front of Adam, there's no mistaking Adam's interest. Nate hadn't realized Adam was bisexual, but now that his secret is out, Nate is willing to use Adam's lust against him if it means protecting the welfare of the company he loves.
For Adam and Nate, hatred and desire are closely linked. Their inability to compromise threatens the company and could expose their tightly held secrets. But as they work together to develop a plan to save Kingston Corp., they begin to realize there might be more to their relationship than anger and lust.
Review: This was a really quick read for me, and I did enjoy it, but I thought I'd do a quick Pro and Con list for you today! Basically, I'd definitely read something else by this author!
Pros:
-I love romances with enemy to lover
-I think they handled Nate's kink well.  They really showed that different things make people feel good, and that there are people out that there that will be attracted to that. I liked the back-story of how Nate started to change how he dressed.
-I appreciated that Adam was bisexual and it didn't end with him saying he was gay all along or anything like that. He's still bisexual.
-I think the business side of the book was handled well, at least in terms of how everything in Kingston Corp. is settled.
Cons:
-Adam has anxiety and panic attacks, and I wish this was developed or shown more since it's one big reason that he's wary about ever being in an actual relationship.
-Adam and Nate don't always communicate well, unless they are arguing and basically not compromising. It gets a bit better as the book goes on, but more growth would have been nice.
-Also, this book is only in Adam's point of view and having both might have helped!