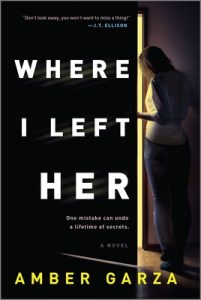 Where I Left Her by Amber Garza
source: copy from Netgalley; all opinions are my own
Official Summary: Whitney had some misgivings when she dropped her increasingly moody teenage daughter, Amelia, off at Lauren's house. She'd never met the parents, and usually she'd go in, but Amelia clearly wasn't going to let something so humiliating happen, so instead Whitney waved to her daughter before pulling away from the little house with the roses in front.
But when she goes back the next day, an elderly couple answers the door–Amelia and Lauren aren't there, and this couple swears they never were, that she's at the wrong house. As Whitney searches for Amelia, she uncovers a trail of lies her daughter has told her–from the Finsta account to rumors of a secret relationship. Does she really even know this girl she's raised? And Amelia's not the only one with secrets. Could Whitney's own demons have something to do with her daughter's disappearance, and can Whitney find her before it's too late?
Review: I was supposed to have my review up earlier this week, but I was a bit late in finishing the book, so here I am, sharing my thoughts today! Where I Left Her is a very intriguing mystery. It mostly follows the point of view of Whitney, a single mom who is pretty overprotective when it comes to her only child, Amelia. Of course, when Amelia goes missing after spending the night at a friend's house, it seems like Whitney should have held a bit tighter.
Interspersed with Whitney's third-person point of view is a first person point of view that seems as if they are looking back on something that happened. I went back and forth on who I thought this mysterious person was, and in the end, one of my guesses was correct. The actual reveal definitely made me rethink those parts of the book though and it definitely changes how you see certain characters.
Where I Left Her was a good mystery but it was definitely a bit of a slow build. There's plenty of suspense and past memories and secrets coming to light, keeping you reading and wondering how things would all end up but it never felt like something I had to keep reading. Regardless of that, I'm very glad that I did read this book and I thought the conclusion was just…woah! Seriously. It's one that I wish I could talk to people about, so if you read the book, let me know! We can discuss!
All in all, Where I Left Her was an enjoyable mystery and perfectly made for a book club!
Purchase a Copy Today (my affiliate link; I get a small % of any sale at no extra cost to you)